ABOUT
INTERSPORT
Founded in 1968 with over 5,400 specialist sports stores spanning 42 countries, INTERSPORT is among the world's leading sporting goods retailers. Despite the fact that each INTERSPORT store is independently owned and run, each store prides itself in having an in-depth understanding of their local customer and sports club like no other, meaning they are able to provide the best advice, guidance and value for all of their services and products.
CASE STUDY SUMMARY
Digital Shoe Shelves with Data Tracking
Impressive Window Displays
Large Range of Indoor Displays
Custom Music Program
Complete Hardware Systems
Scent Solution
Broadcasting Studio Revamp
OBJECTIVE
As INTERSPORT continue to intensify their consumer-centric approach to being the leading multi-category specialist sporting goods retailer, they seeked a holistic in-store solution to strengthen the connection with their target consumer. As the brand's preferred in-store media solutions partner, Mood Media has been working with INTERSPORT stores worldwide for a number of years to continually enhance their solutions as new technologies and consumer demands emerge.
DIGITAL SHOE SHELVES
Running and training footwear walls were identified as a key area to win big with the brand's target consumer whilst increasing sales and profitability.
Mood designed a Lift & Learn Footwear Wall solution for implementation in key INTERSPORT stores that helps create a whole new customer journey based on the consumer's needs and their activity preferences. The solution allows INTERSPORT staff to engage with the consumer, focusing on the who, what, where and why of their running or training activity. The walls provide ease of navigation and product information for consumers whilst enabling staff to support them in their purchase decision.
The full INTERSPORT Digital Shoe Shelf solution includes:
Wall headers
Highlighter cubes (with static POS displays)
RFID-frame with digital screen + Harmony (SoC)
RFID tags
Mood installed professional quality screens with Harmony (SoC) and Nexmosphere RFID to support the solution, as well as developing a tool to keep track of how often shoes are picked up per section / per store. This level of data tracking provides valuable information for both INTERSPORT and the supporting footwear brands and their respective marketing campaigns.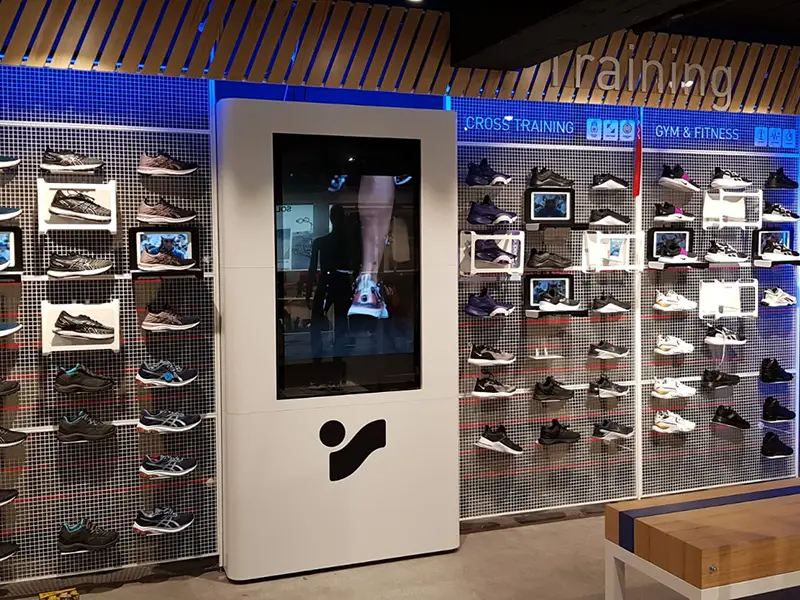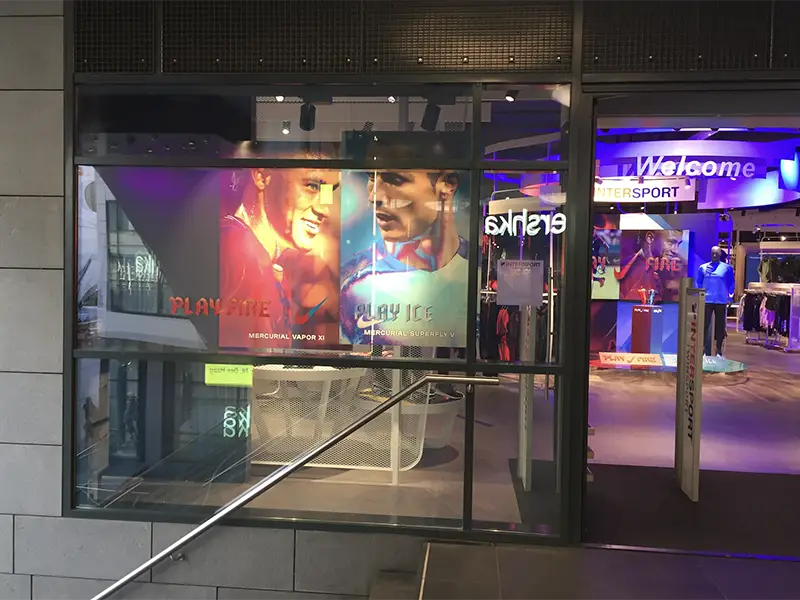 WINDOW DISPLAYS
Drawing customer's attention with digital displays in the shop-windows is a common solution within the latest INTERSPORT store concept. However, INTERSPORT The Netherlands took it one step further, deciding to equip all of their stores with a portrait orientated window display, arranging all content delivery and scheduling, via Mood's Harmony Content Management Platform, to ensure maximum impact and effect.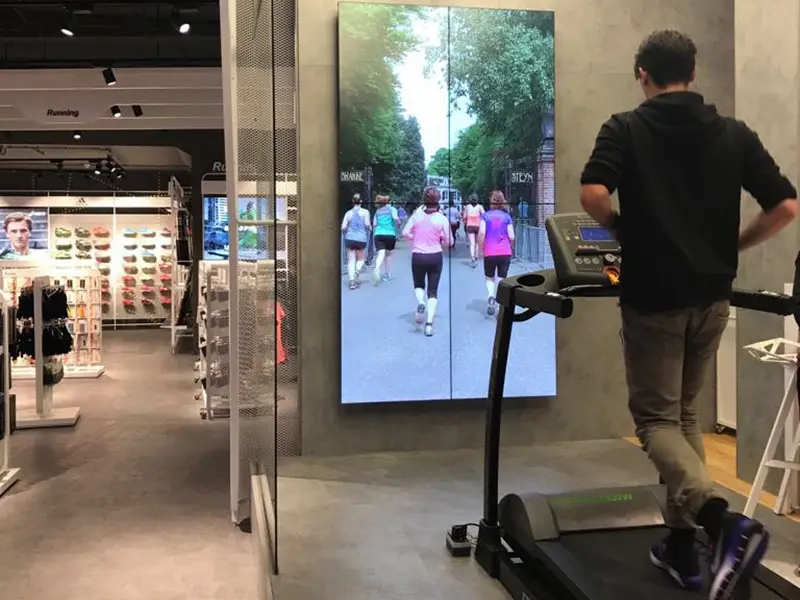 INDOOR DIGITAL SIGNAGE
Once customers have passed the impressive window displays and entered the store, there are a variety of in-store displays within each INTERSPORT store. From large displays and video walls in the Seasonal Campaign Zone, at the Cash Desks and as part of the Running Experience, to medium sized displays across all Category Zones playing relevant content, and interactive solutions using touch or Lift & Learn technology, Mood Media is proud to have designed and installed any digital signage solutions that the brand has required.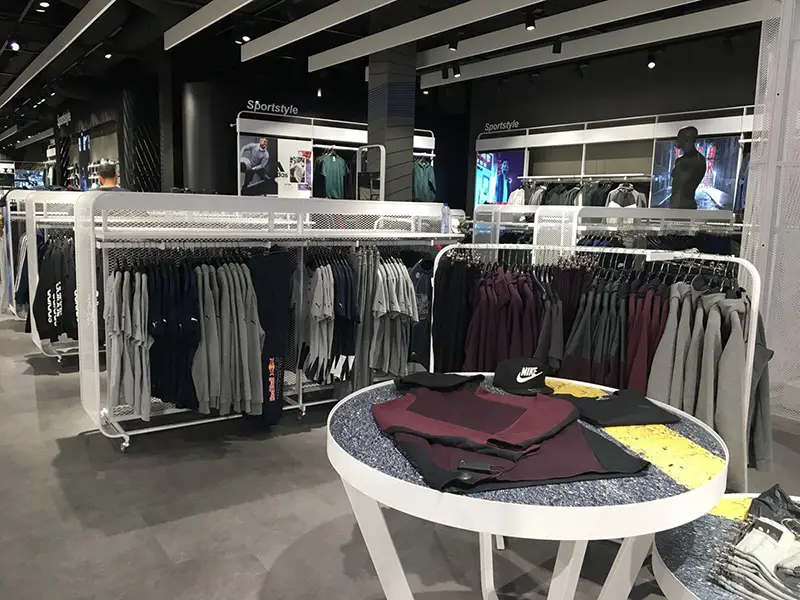 CUSTOM MUSIC
For INTERSPORT's music program, the music supervisor team set up a bespoke global music program, designed in line with the brand's retail strategy and customer profile. Each store has a dayparted program, meaning a different playlist is played according to the time of day, mixing up the tempo and sometimes even the genres.
For the brand, it was important to keep the selection of songs as accessible and recognisable as possible, however in order to express a touch of local flavor, each store has up to 20% "national" music tracks incorporated into their program.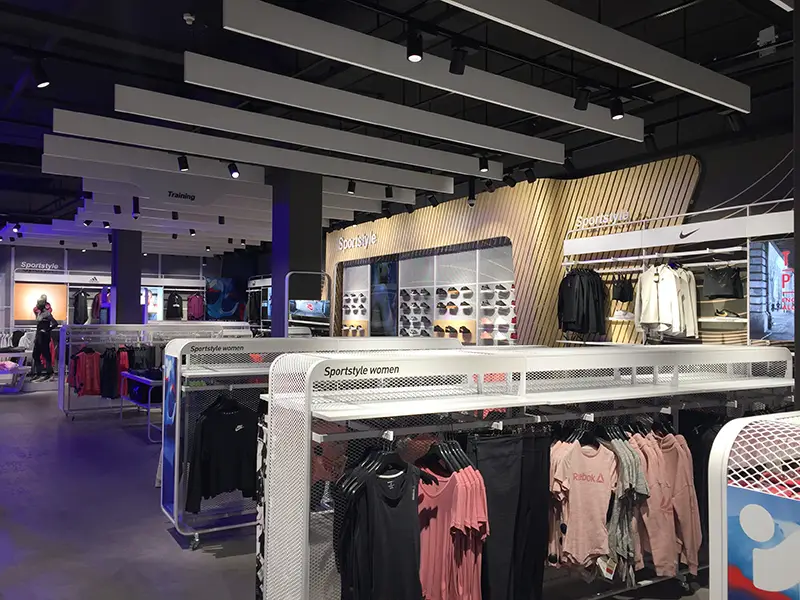 SYSTEMS
Interactivity in-store has always been, and will always be, a must-have for the INTERSPORT brand, as well as avoiding multiple platforms to control content. Everything, including all indoor screens, and the Lift & Learn solutions, with special RFiD tags programming, runs with direct connectivity via our proprietary Harmony Content Management System, with all players and screens synchronized.
Mood has supplied, installed and continues to maintain all audiovisual hardware across INTERSPORT stores worldwide.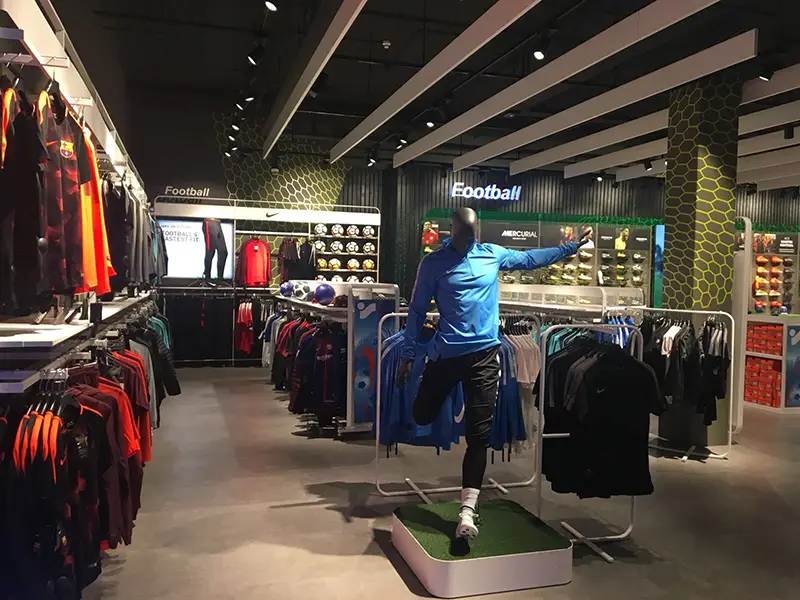 SCENT
An exciting new development has been our first implementations and trials for the use of scent across INTERSPORT stores, particularly in the Outdoor and Football sections. Mood has been supporting the brand in conducting a series of tests measuring brand and category awareness, financial performance and conversion rates.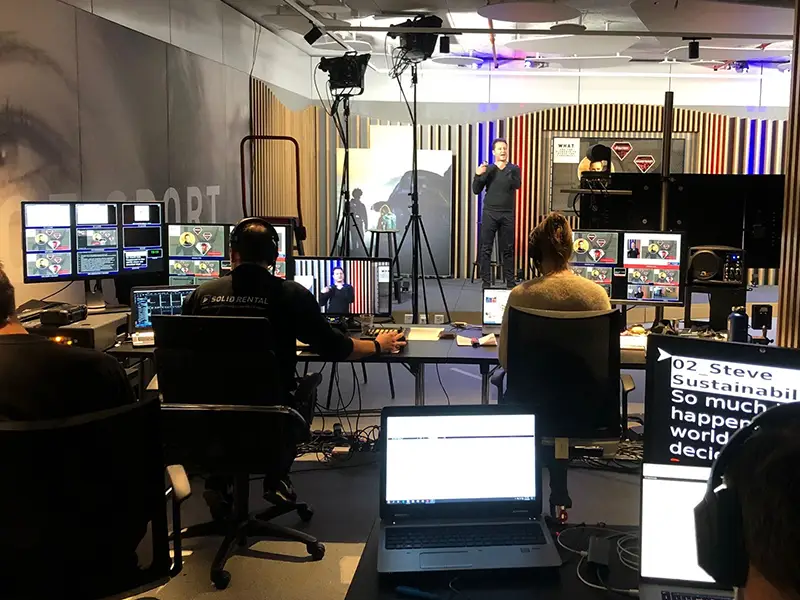 BROADCASTING STUDIO
As a result of the pandemic in 2020, INTERSPORT seeked new ways to connect virtually with the retail network and decided to revamp their HQ basement in Switzerland to facilitate future virtual presentations and smaller face-to-face meetings. They entrusted Mood to support the effort in helping to transform the room into a professional environment that promoted their retail excellence. Mood supplied, installed and continues to maintain all audiovisual hardware in the broadcasting studio.
RESULTS
Thanks to this new store concept and the Digital Shoe Shelves solution, INTERSPORT saw the turnover of their running shoes increase by 9% and the units of training shoes sold by 31% across their premium test stores!
CONNECT WITH US
Elevate your Customer Experience through the power of Mood's Solutions.