Bring your brand to life with professional Digital Signage designed to engage and inspire your customers and employees.
See the difference Digital Signage can make. Contact us today for more information.
See the difference
Digital Signage can make.
Businesses around the world use Digital Signage to create unforgettable customer experiences. As the global market leader for Digital Signage solutions, we design visual experiences that help brands create the next generation of consumer engagement – making every moment more personal and every experience more engaging. Find out more below and get in touch to learn what we can do for your business.
DIGITAL SIGNAGE SOLUTIONS
The sky's the limit with Digital Signage. Explore our options below and find the solution that's right for your business.
COMMERCIAL GRADE SCREENS
Engage customers with durable and dependable hardware you can count on.
VIDEO WALLS
See for yourself how multi-screen video walls can bring the wow factor to your business.
DIGITAL MENU BOARDS
Easy to read and easy to update, digital menu boards can captivate customers and improve your ROI.
WORKPLACE DIGITAL SIGNAGE
In the breakroom or around the office, digital signage can inform and entertain your employees.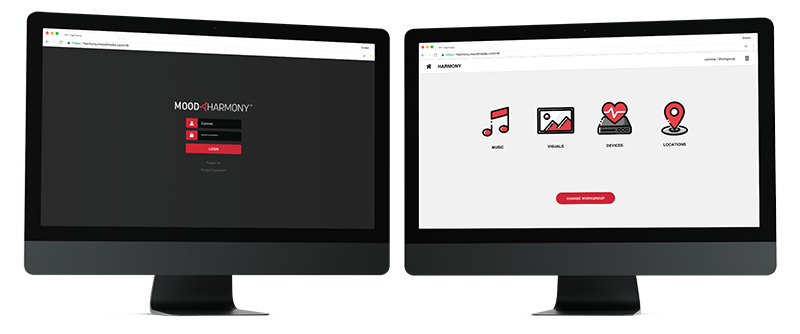 DIGITAL SIGNAGE SOFTWARE
Take complete control of your on-site media solutions with Harmony – the world's first and only end-to-end Brand Experience Platform. Access our mobile-friendly, proprietary content management system and easily manage your visual content with a single login – all backed by the industry's most reliable and versatile technology designed for digital signage.
Easy-To-Use
With a mobile-friendly, intuitive dashboard and single login, Harmony makes managing your digital signage easier than ever.
Templates & Customization
Set it and forget it or take a hands-on approach with hundreds of eye-catching templates and limitless customization options.
Monitor Peformance
Our reporting & analytics capabilities allow you to manage and monitor all of your devices, no matter how big or small your footprint.
DIGITAL SIGNAGE PLAYER
Flexible software requires versatile hardware. That's why Harmony is supported by our all-in-one audio & visual media player. Reliable, robust and secure, the Harmony Digital Media Player supports Music, Audio Messaging and Digital Signage – making it the world's most efficient way to manage your entire brand experience.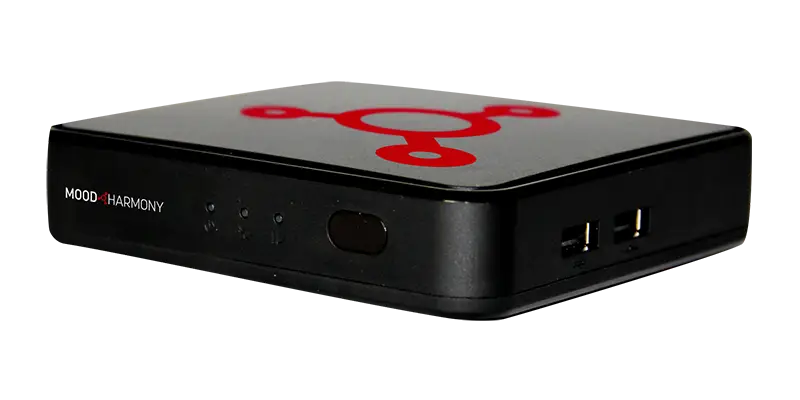 Using The Latest Technology
With 4k video and wifi capability, Harmony's advanced technology makes displaying eye-catching content easy and accessible.
Reliable & Affordable
Our cost-effective and dependable hardware means you never have to worry about glitches, gaffes, or interruptions.
Secure
Security measures like CrowdStrike EDR and SOC2 Compliance ensure that your data is always safe and protected.
DIGITAL SIGNAGE FAQS
New to Digital Signage? Here are some frequently asked questions to help you better understand this powerful advertising tool.
What is Digital Signage?
Simply put, it's exactly what it sounds like – signage displayed on a digital screen. Sometimes called electronic signage, digital signage displays can replace traditional printed media like menus and posters with eye-catching digital content on high-definition screens that creates an engaging and immersive experience.
Why is Digital Signage important?
Humans are visual creatures by nature. We are incredibly drawn in by visual content. The appeal of digital signage is so strong it can even pull attention away from our phones. In fact, 26% of shoppers say that engaging digital content influences their purchasing decisions, and 22% say they shop longer as a result. This ability to attract an audience makes digital signage displays an indispensable tool to promote your brand and boost your sales, while drawing attention away from the competition.
How does Digital Signage work?
Content is driven to the screen from a digital signage player in the same way that your cable box is connected to your TV at home. The media player stores the content that is uploaded and managed via digital signage software. With content management software, you can determine how and when content is displayed on the screen.
JUST SOME OF THE INDUSTRIES WE PROVIDE WITH DIGITAL SIGNAGE
CONNECT WITH US
Elevate your Customer Experience through the power of Sight Solutions.