MUSIC FOR BUSINESS
Elevate your customer experience with fully-licensed, commercial-free music for business.
IN-STORE MUSIC THAT FITS YOUR BRAND
CRAFT THE SOUND OF YOUR BUSINESS
Music has the power to create emotional connections and engage your audience, build brand loyalty, and put your customers in the mood to buy.
Create your own branded mixes from the world's largest library of fully-licensed music for business use. Choose from hundreds of subgenres and fine-tune the sound to your liking. Ideal for those who want to fully curate their sound. Choose from 250+ professionally-designed playlists, each fully produced and regularly refreshed.
Industry's Largest Music Library
Endless options for every audience and industry. Fully licensed for business use.
Access to Professional Music Designers
Create a fully branded and unique soundtrack with our music experts.
Unmatched Control and Flexibility
Have as much or as little involvement and influence over your music as you'd like. It's entirely your choice.
INTUITIVE AND SECURE WEB-BASED PLATFORM
Whether you want to set it and forget it or take a hands-on approach, our proprietary software platform Harmony™ has you covered with unmatched flexibility and a world of programming options – all backed by the industry's most reliable and versatile streaming music for business technology.
Take complete control of your in-store music and media solutions with our end-to-end music system for business.
Secure. Reliable. Intuitive. Harmony makes managing your music easier than ever.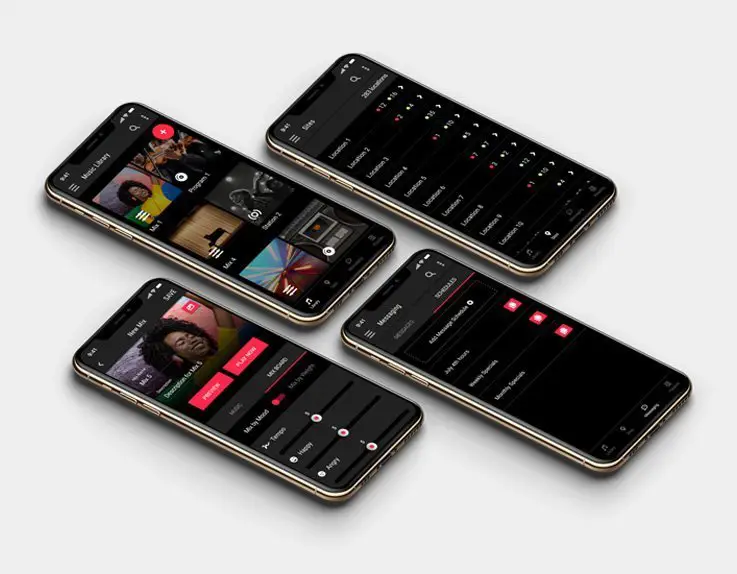 Maximum Reliability
Secure, reliable technology with minimal internet bandwidth usage and seamless playback.
Intuitive All-in-one Software Platform
Centralized & mobile-friendly content management system – no need for multiple vendors or multiple logins.
Global Support and Proactive Monitoring
We can help with physical hardware installation, provide maintenance and offer a global support network for quick resolutions.
FULLY DESIGNED
FOR COMMERCIAL USE
When it comes to background music for businesses, nothing compares to professional Music Solutions from Mood Media.
| | |
| --- | --- |
| Key Features | Music For Business by Mood Media |
| Fully-Licenced Music for Business Usage | |
| No Ads Or Interruptions | |
| Less Repetition – No Looping Of Playlists | |
| Filter Unwanted And Explicit Content | |
| Create Customized Schedules | |
| Personalized Playlists | |
| Reliable Connection | |
| Ability To Include Audio Messaging | |
| Mobile Control | |
MORE CUSTOMIZATION, GREATER CONTROL
Access professionally curated music playlists from a wide range of music genres, or create your own branded mixes. The possibilities are endless and fully-licensed for business use.
Click here to listen to samples of our music for business
JUST SOME OF THE INDUSTRIES WE PROVIDE WITH MUSIC
MID-MARKET AND ENTERPRISE:
DISCOVER THE SOUND OF YOUR BUSINESS
Want to know what music is right for your business? Request a FREE Audio Identity Profile from our professional Music Designers, and get the scoop on what works best for your brand.
We'll pair you with a dedicated Music Designer who will work with you to create a unique soundtrack for your brand and personalized in-store radio station that's regularly updated. The result is a brilliant reflection of your brand and an unforgettable Customer Experience.
CONNECT WITH US
Elevate your Customer Experience through the power of Sound Solutions.