MOOD:QSR
ENGAGE STAFF
IMPROVE TRAINING

INCREASE EMPLOYEE RETENTION
THE TRUSTED QSR MEDIA PROVIDER
Serving tens of thousands of QSR locations globally, Mood has the expertise and solutions to help you exceed expectations, boost operational performance, improve team communication, and increase employee retention.
Employee turnover is as high as 150% in the QSR industry. High quality visual communications from Mood Media can help support your teams and alleviate worker attrition.
EFFECTIVE COMMUNICATION IS ESSENTIAL
With Digital Kitchen Communication from Mood Media, you can reinforce training, bridge communication barriers, display job postings and safety tips, share HR information, recognize a job well done or simply provide quality breakroom entertainment.
KITCHEN COMMUNICATION MONITORS
Streamline employee training
Boost morale and productivity
Recognize employee achievement
Reduce food costs
Enhance worker communication
Improve transaction times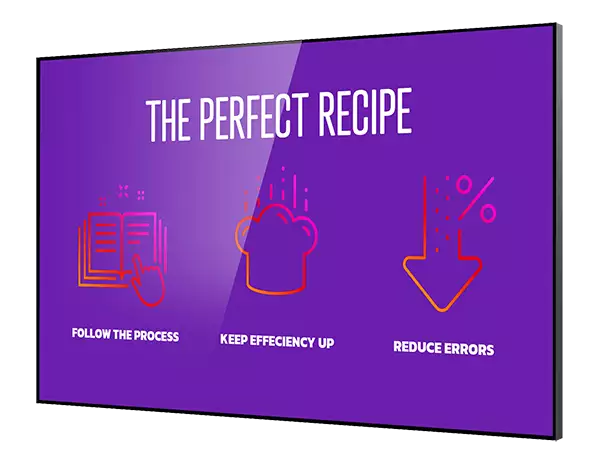 WHY MOOD
QSR DIGITAL SIGNAGE?
With thousands of digital screen template options to choose from, creating, updating or rotating content is fast and simple.
Intuitive, centralized online content management for any number of locations
Hardware, software, content development & management, installation and service
Robust monitoring and reporting
Backed by local service and installation in every zip code
Industry-best pricing on innovative technology from leading commercial-grade screen manufacturers
CONNECT WITH US
Elevate your Customer Experience through the power of Mood's Solutions.