5 BEST PRACTICES FOR USING DIGITAL SIGNAGE TO SUPPORT INTERNAL COMMUNICATIONS
The traditional cork board in the break room covered in outdated, tattered and overlooked notices is a thing of the past.
Brands across industries now employ digital signage to support and strengthen their internal communications efforts.
For example, a national pet supply store uses Mood Media Digital Signage in its warehouse facilities to keep employees up to date on company news and information. A global restaurant chain incorporates it throughout its kitchens to ensure line cooks at each individual station prepare customer orders consistent with the company's recipes. A regional grocery chain uses its back-of-house digital signage system to feature employee training videos, inform teams of daily and weekly specials, give shout outs to outstanding team members, and celebrate community involvement. Regardless of industry, digital signage can support your internal communications as a customizable and scalable solution.
Digital Signage ensures that important news and company notices are displayed prominently to train, retain and inform employees.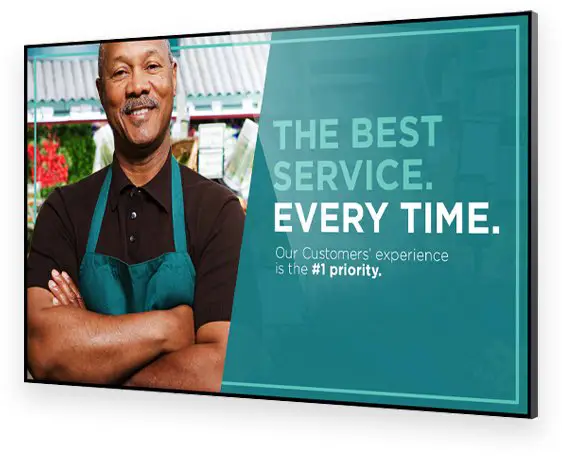 DIGITAL SIGNAGE BEST PRACTICES FOR INTERNAL COMMUNICATIONS
As you consider the benefits of digital signage for your business, keep in mind these best practices to ensure you get the most out of your investment..
1. Develop a Style Guide. Some providers of digital signage and digital signage content platforms provide a plethora of templates by industry that you can use to establish a consistent brand look or design framework for your business. Or, of course, you can create your own. Establishing a template, or a set of guidelines upfront, helps keep all messaging and design aligned, regardless of location. If you have multiple locations or departments, digital signage can be programmed to offer dynamic content that can be cycled across multiple locations as well as content for that specific location, while a style guide ensures it all stays on brand from a look and feel perspective.
2. Keep Messaging Clear and Concise. Plan a monthly content strategy in advance, and then edit the content to keep your messaging simple and timely. Shorten messages down to a few bullet points; the more succinct the better. The Age of Social Media has dwindled the human attention span to less than that of a goldfish.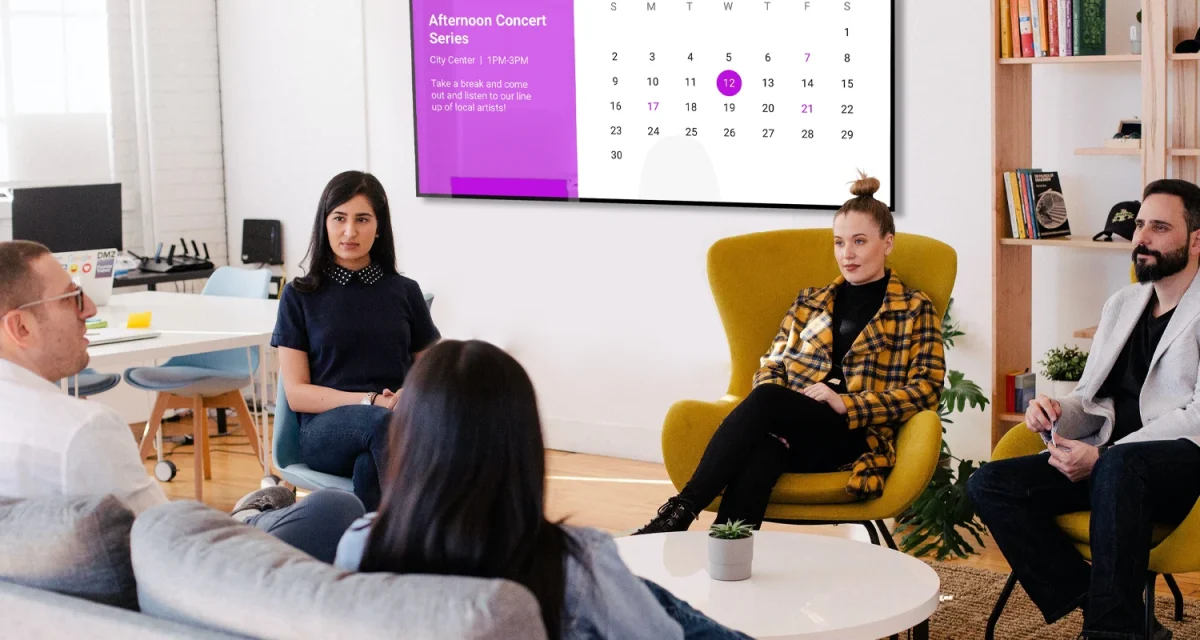 3. Switch it Up. Change content often by creating a content plan that consistently engages employees while also feeling fresh and current. Your digital signage system should include software that helps you to do this seamlessly. With the right provider, you can not only drag and drop new content easily into place, but you can also schedule it by daypart, by shifts, or even by store. Plan for a content mix that is balanced. For example, grab the attention of employees by using Digital Signage to display employee scheduling, but also take the time on screen to recognize and celebrate employee performance.
4. Be Inspirational. Incorporate thought-provoking content to keep viewers engaged to support ongoing training and employee professional development. Motivational quotes, internal commentary from executives and stories of the achievements of individuals, teams and departments are examples of useful inspirational content.
5. Gather Feedback. Ask employees their perspective on the content being displayed. Create a channel for employees to provide ideas that will help to expand your content plan. The insights, experiences and ideas that can come from employee feedback are invaluable and should prove useful as you work to keep your content consistent and relevant.
More than a cool monitor…
Digital Signage is more than just a cool monitor that attracts viewers. It's a customizable, interactive and effective tool that can be leveraged to improve employee engagement, onboarding and training program effectiveness and even overall employee productivity. It also creates a channel to connect and engage with on-brand messaging, images and other customized content. More brands are seeing the benefits of using digital signage as an internal communications tool to celebrate birthdays and work anniversaries, congratulate top-performing team members, display company updates and news, deliver schedules, and more.