THE DATA BEHIND DIGITAL SIGNAGE SYSTEMS
As digital signage increases in popularity and effectiveness, more companies of all sizes are adding digital solutions to their marketing and brand strategy. However, it can be an expensive investment, so having accurate information about digital signage systems is crucial. Here is a quick guide from Mood about how consumers are influenced by digital signage, which companies use it and its effects on business and sales.
Attract. Entertain. Educate. Inform. All with Digital Signage solutions from Mood. Contact us to get started.
HOW MANY CONSUMERS ARE EXPOSED TO DIGITAL SIGNAGE?
In 2010, 70% of Americans over age 12 were viewing digital video displays each month (1), which was an estimated 181 million people. However, that number has certainly grown immensely, because the number of companies displaying digital signage has been increasing steadily each year.
More specifically, digital signage installations are growing by up to 40% per year (2), and are not expected to stop anytime soon. The compound annual growth rate (CAGR) is expected to continue at 8.94% through 2020 (3).
WHAT COMPANIES EFFECTIVELY USE DIGITAL SIGNAGE?
Many industries and businesses of all sizes currently benefit from digital signage systems. Currently retail is the leading industry for digital signage, making up 25% of the sales, followed by QSR (20%) and healthcare and corporate companies combined (12%). Finance and education also occupy a significant portion of the digital signage market (4).
Unsurprisingly, big businesses like Chili's and Qdoba use impressive digital displays, but it's no longer just a trend for large companies. The average dynamic digital signage system sale contains between one and five displays, meaning that small- and medium-sized businesses have become prominent in the market.
Digital signage is in high demand because it serves many purposes and has been proven effective in various industries. But not all digital signage is the same – different industries use digital signage in various ways. Retail and restaurant locations are more likely to use it for advertising, while corporate, medical and educational companies use digital signage systems to spread important information. However, both hope to engage their customers as they advertise and inform.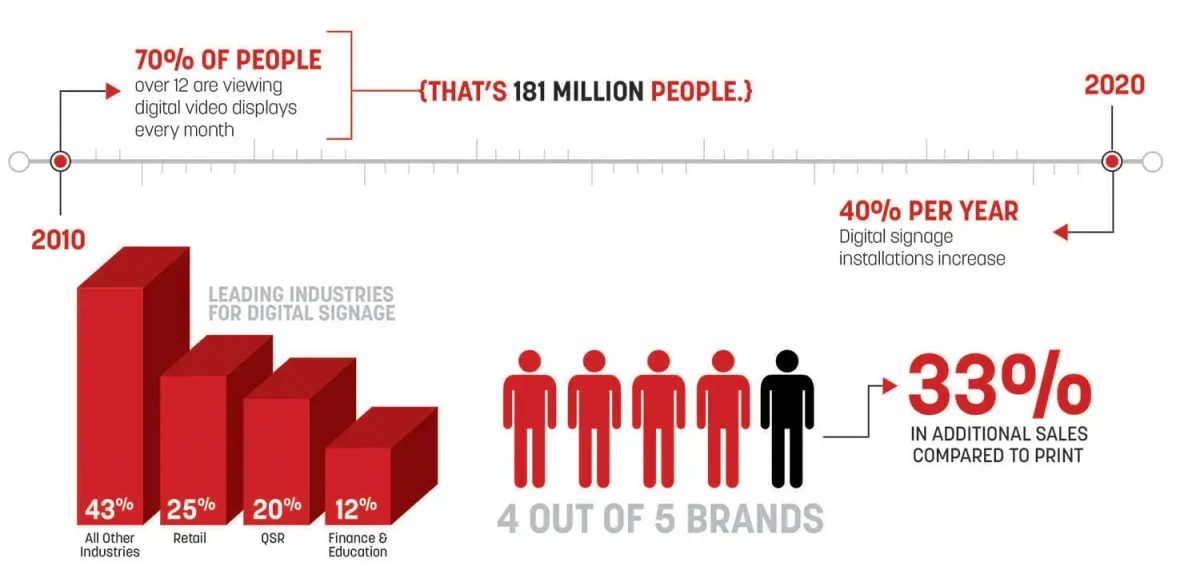 WHY IS DIGITAL SIGNAGE USE INCREASING?
More companies are embracing the cost-effective opportunities offered by new dynamic advertising technology. Companies with digital signage are more likely to get customers in the store, direct them to more areas of the store and increase customer time in the store. Multiple studies prove the strong ROI and ROO of digital signage systems.
In 2010, Nielson tracked digital signage use in 120 grocery stores over time and found that 4 out 5 brands experienced increases of up to 33% in additional sales compared to when using printed signage alone (5). Also, 68% of customers agreed that digital signage would "influence their decision to buy the advertised product in the future" and 44% agreed it would "influence them to buy the advertised product instead of one they planned to buy." (6)
With digital signage, messages can be changed on demand with very low cost (unlike printed signage), so companies can speak directly to their customer with the right message, in the right place and at the right time. Companies can switch menu items and products according to the time of day, season or available inventory with ease. They can also showcase more products and information than ever before with multiple features in a slideshow format, and enhance the in-store experience by engaging customers and creating dynamic interior decor.
CONNECT WITH US
Elevate your Customer Experience through the power of Mood.