THE MOST TRACKS.
THE MOST RESTAURANT PLAYLISTS.
Whether you want to create an elegant ambiance, garnish a theme or rock the dining experience, Mood has you covered with Harmony – the most innovative restaurant music service.
Contact us today and see why more than 100,000 locations trust Mood – the industry's leading restaurant music service provider.
"We looked at all the music options, but Mood Media stood out above the rest. They understand our brand and help us create an experience, and the level of support and local service just can't be found with other providers. Mood provides more than just an awesome restaurant music service. They provide a solution built for my business."
– Jonathan Luther, Proprietor/Musician – JJ's Red Hots
The world's largest music library, hundreds of programming options
All music fully-licensed for business use
Tracks pre-screened for inappropriate content
Reliable, innovative platforms designed for business
Easy online content management and scheduling
No third-party ads or interruptions
Responsive 24×7 support by phone and email
Fast on-site service and installation in every U.S. zip code
Single-source provider of Digital Signage, Voice Messaging and Restaurant AV Systems
HARMONY:

The World's Most Innovative Restaurant Music Platform

Control your music like never before with Harmony – the mobile-friendly Brand Experience Platform.

Whether you want to set it and forget it or take a hands-on approach, Harmony has you covered with unmatched flexibility and a world of programming options – all backed by the industry's most reliable and versatile restaurant music technology. Learn more.
Choose from hundreds of programs and micro-genres
Schedule your mixes and stations down to the second
Intuitive web-based app and mobile-friendly access
All music fully-licensed for business use
No ads or interruptions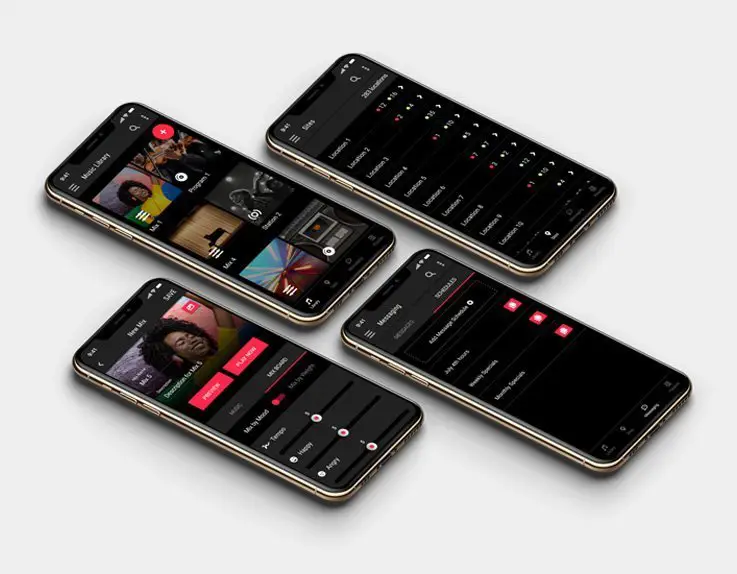 DO MORE WITH HARMONY
Harmony is the world's first integrated restaurant media platform – allowing you to manage your music, messaging and digital signage from one simple and secure online portal.
RESTAURANT MUSIC: A NEW STRATEGY AND PERSPECTIVE
In the C-19 era, the music you play in your restaurant is more important now than ever before. Learn the keys to creating more meaningful connections with your guests through music.
NEED TO GO INTERNET FREE?
While internet is the most efficient way to deliver music, it's not best for every business. That's why we offer different platforms for different needs, including DVD-based players and satellite music devices. So no matter how you want your restaurant music service, Mood has you covered with flexible, reliable and innovative platforms that are specifically designed for business use.
RESTAURANT Music Licensing
All of our music solutions are fully licensed for business use – no extra fees, and no worries.
MUCH MORE THAN JUST MUSIC
10 ELEMENTS OF EFFECTIVE RESTAURANT MUSIC
Get the music right at your restaurant with these 10 essential insights from our professional music designers.
CONNECT WITH US
Elevate your Customer Experience through the power of Sound Solutions.