INTERNATIONAL WOMEN'S DAY AT MOOD MEDIA
International Women's Day is a day to celebrate the cultural, political, and socioeconomic achievements of women across the globe, but as part of our Women of Mood series, we wanted to know what exactly encapsulates this special day for our female employees. Whether it be through art, music or even a newspaper headline, we asked women of Mood what best represents International Women's Day for them.
What encapsulates International Women's Day to you?
Laura Matei
Supervisor, OTC Client Resolution Team
This painting for me is the perfect capture of a woman's spirit. Lady Spring is resting her head in her hand, tired after renewing, reinventing and bringing life back on earth but still with a smile on her face, radiating colors. The artist, Dorina Costras, is a Romanian woman living in France and her work vibrates with feelings and emotions. I admire her for fighting to find her voice in the art world.
QUARTZ
A deal valuing Spanx at $1.2 billion was brokered by an all-female team
Jaime Bettencourt
Senior VP, North America and Global Services Sales
For me it would have to be the headline that CEO Sara Blakely, who started Spanx with just $5,000 in 2000 and became the world's youngest self-made billionaire in 2012, worked on the deal with an all-female team led by Blackstone managing director Ann Chung. The companies said they intend to create a 100% female board of directors as well.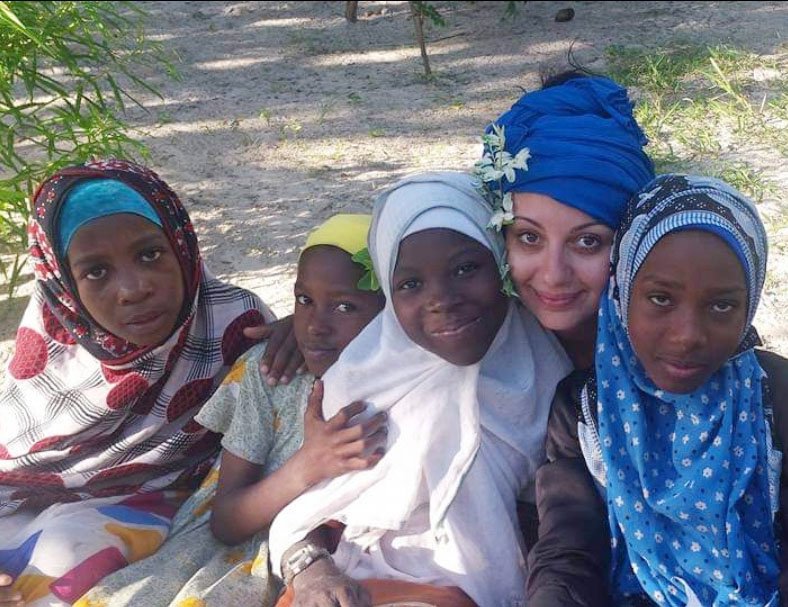 Laura Radu
MINT Billing and Disputes Supervisor
This picture was taken in Zanzibar, Africa. I was there to help the children from a small village that did not have access to electricity, water, food, clothes, or education.
Why does it represent International Women's Day for me? No matter where we are in the world, we are all women and it is our purpose to help and support one another.Those girls were not aware of the world outside their village, but I strongly believe that after our time spent together, I at least inspired the curiosity to want to experience more of the world. Perhaps one day, they will become amazing powerful women that will run the world.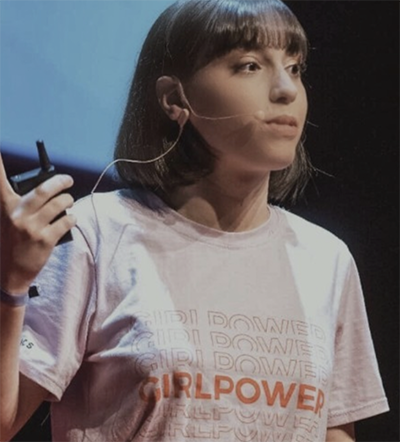 Raluca Constantinescu
Director of AR Europe
This is Sofia Scarlat and this is a picture taken during her participation at a TEDx event in 2019 when she was just 17 years old.
She is currently a student at Stanford University and she runs the only gender equality organization for teenagers in Romania. Sofia works to offer a platform for teenagers to advocate for equal opportunities.
Having heard her speech and seeing the concrete actions taken to positively influence the community and her, acting as a voice for her generation, it just tells me that the world is getting better. And that the generations that are coming will only build towards a better future and that really, one voice can make a huge difference. And that is something worth celebrating.
Leeanne Snow
Manager Customer Experience
I recently watched "I Am Woman: The Helen Reddy Story." Her song became the anthem for women of every walk of life. I was a young girl during the powerful "Women's Movement" in the 70's. The words to this song became the theme song for what women were trying to accomplish. And it still makes a statement today. Women have made great strides in the past 50 years. We have many more women role models today due to the efforts of those who drove to make changes in how women were treated both in the workplace and at home.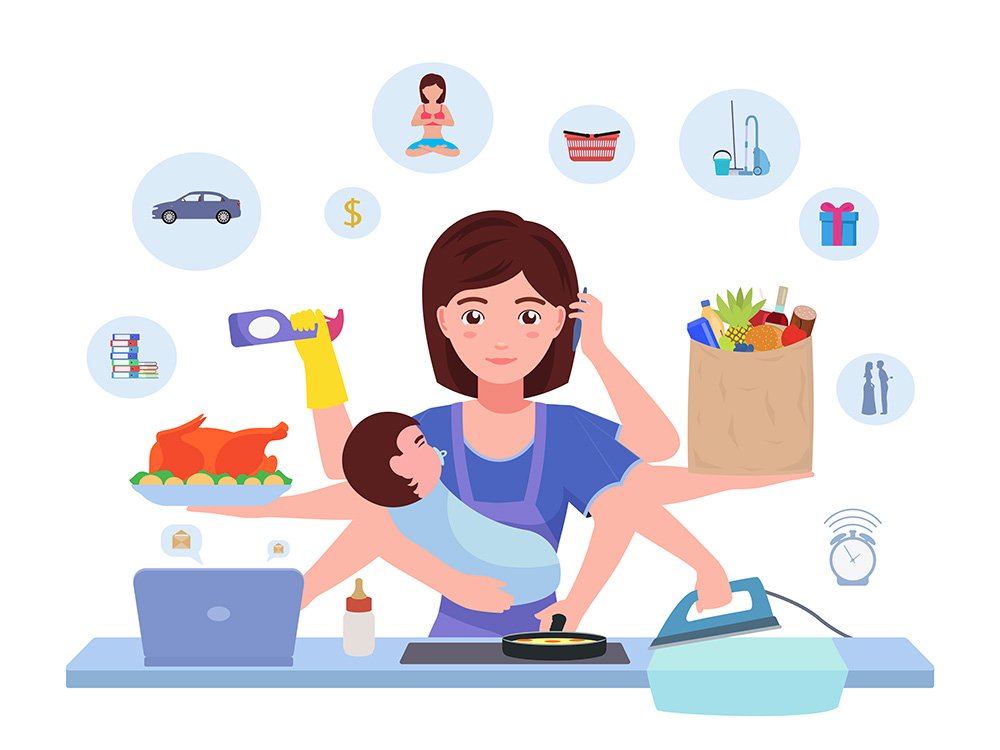 Norilynn O'Neill
Director FP&A
Women do it all– even with social norms and expectations of women constantly changing, instead of swapping one thing for another, tasks just pile on and we get it done. The only thing missing from this photo is remembering to shower!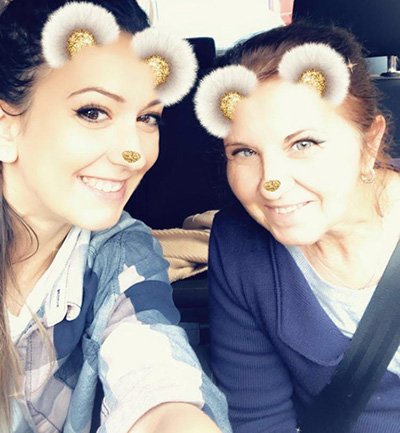 Andreea Mocanu
Client Support Supervisor
We can always use more opportunities to celebrate the deeply special women in our lives. I am so grateful to have my mom as a guiding force in my life. The first female leader in my life and my hero.
Layla Evans
Sr. Director, Digital Marketing
If I remember correctly, the first time I saw this poster I was in my early teenage years. Later during college, I worked at a vintage poster gallery and we sold similar Russian constructivist propaganda posters with muscular women like Rosie, the US Westinghouse 'riveter girl' as she is known. This image quite directly and confidently says, yes I am a woman and I am strong and capable. As a young woman, Rosie's powerful image resonated with me. She encouraged strength in women and regardless of how others may perceive you, judge you or what limitations have preceded women in the workplace – that shouldn't stop you from chasing your dreams. Rosie stares back and says 'you got this.'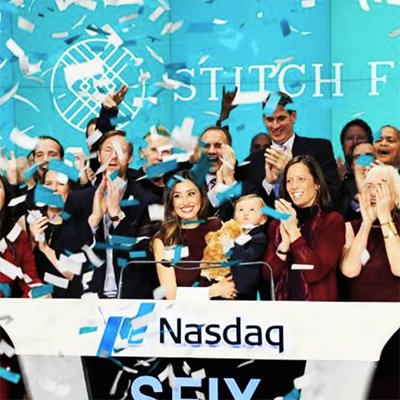 Stitch Fix founder and CEO Katrina Lake holding her 14-month-old-son at the company's IPO, courtesy CNN Business (Source)
Zinnia Salcedo
Enterprise Account Director
This image went viral for a reason. In 2017 Katrina Lake, Stitch Fix Founder and CEO held her 14 month old son at the company's IPO and broke records as a self-made female billionaire. She's also part of a small group of only about 20 women ever to take the companies they founded public. As a working mom to a two year old at the time in a corporate business development role, I was so inspired to see this representation of success and leadership from a female founder. Since then, Whitney Wolfe Heard, Bumble CEO broke her record as the youngest woman to take a company public, with her one year old son by her side at IPO. This photo and news inspires and reminds us that there are no limits to what leadership can look like today.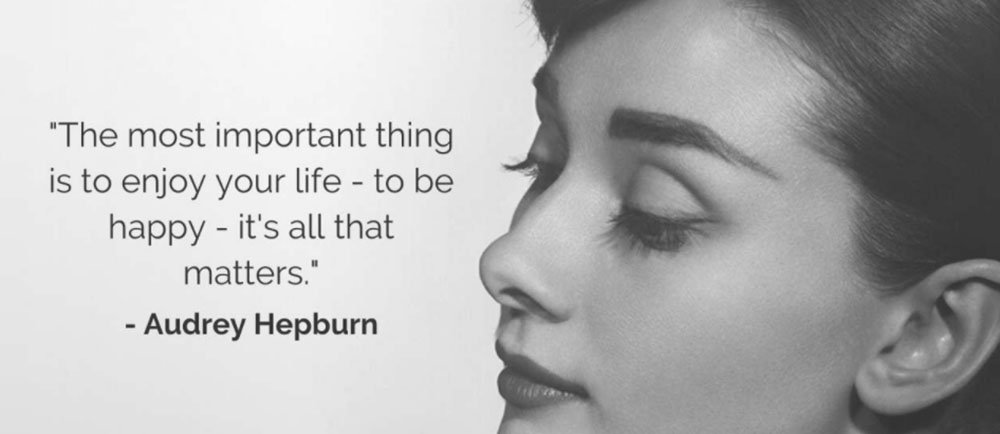 [Image Credit: Yousuf Karsh, 1956]
Joanna Luke
VP, Legal International
Women sometimes bear the weight of the world, raising children, dealing with life admin, duties at home, supporting elderly relatives, having a career. They are phenomenal, but at the end of the day, all that matters is that they are happy. I have heard said we are only as happy as our least happy child. I like to think instead that our children feed off our happiness and if we show them that we are confident in our ability, happy with our choices and proud of our achievements then we cannot go far wrong.