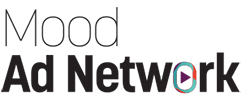 INFLUENCE


CONSUMER BEHAVIOR

Mood Media's Ad Network offers you the opportunity to deliver a simple yet powerful message to a captive audience. An audience that is ready to listen, and more importantly – ready to buy.
Contact us to start advertising on the Mood Ad Network!
Please enable Javascript to view form!
THE IN-STORE OPPORTUNITY
Studies show that an in-store audio network delivers on average an 18% lift in specifically advertised products.
An on-site environment ensures a captive target market audience.
Our network platform enables wide-reaching and hyper-targeted advertising. Find your audience and zero in.
OUR REACH
Mood operates two ad network channels based on the type of customer profile you would like to reach:
Through our Grocery audio network we reach nearly 2.9 Million Shoppers each day across more than 1,500 grocery store locations.
Through our Healthcare video network we reach a highly targeted medical audience of approximately 170,000 viewers each day across more than 2,400 healthcare locations.
Through our QSR network we reach 5,000 quick-service restaurants.
COMMUNICATE, EDUCATE AND INFLUENCE YOUR AUDIENCE
Captivate an audience that is ready to purchase.
Impact point-of-purchase sales and drive revenue.
Educate, entertain, and engage both new and existing clientele.
Increase brand recognition and brand loyalty with compelling messaging.
CONTENT & SCHEDULING
Play:15 and:30 second messages across your properties that engage listeners with your brand.
Play 2-4 messages every hour your business is open, so you're sure to hit a wide audience throughout the day.
MOOD'S CAPABILITIES
Connect your ad network to other Marketing efforts already in progress to build on existing momentum and target your audience at the most effective times.
Our robust delivery platforms have the ability to provide reporting and analytics needed for advertisers.

TURNKEY SOLUTION
for in-store media, with a network of 65K+ locations in key verticals such as: Grocery, Pharmacy and Retail.
UNMATCHED EXPERTISE
in the in-store audio and visual advertising space, working with partners to sell and execute the advertising.
DIRECT ACCESS
to different advertising budgets.
ROBUST DELIVERY PLATFORMS
have the ability to provide reporting and analytics needed for advertisers.
FULLY TRANSPARENT REPORTING
provides all accounting calculations, so you know exactly how your share of revenue is determined each month.
CONNECT WITH US
Elevate your Customer Experience through the power of Mood.