MUSIC CURATION FOR BUSINESS
Maximize the Customer Experience with the Right Soundtrack
As a business owner or manager, you know that every detail matters when it comes to creating a great customer experience. From your product selection to your decor, you've thought carefully about how to make your customers feel welcome and satisfied. But have you considered the role that music can play in this process?
Studies have shown that music can have a powerful impact on customers' perceptions of a business. It can influence their mood, behavior, and even their willingness to spend money. That's why it's important to curate the right sound for your business, one that aligns with your brand identity and appeals to your target audience.
Our team of experienced DJs and musicologists specialize in music curation for businesses of all types and sizes. We can work with you to create a custom playlist that reflects your brand values and enhances your customers' experience.
Maximize your brand and Customer Experience with music. Contact us today to get started.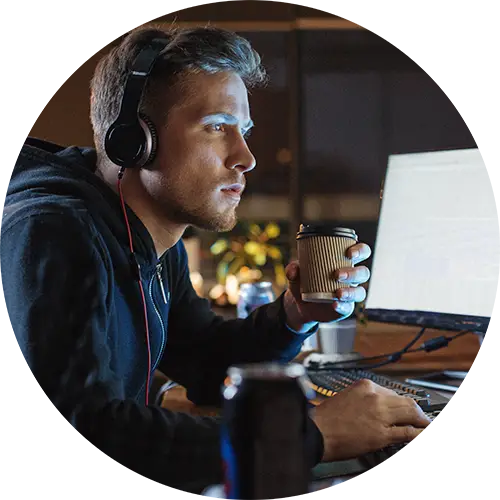 WHAT IS
CURATED MUSIC SERVICE FOR BUSINESS?
A music curation service is a specialized service that provides custom playlists and music selection for businesses, events, or individuals. The service involves selecting and organizing music based on the client's preferences, brand identity, and target audience. Music curation services are often used to enhance the customer experience, create a specific atmosphere or mood, or align with a brand's values and messaging. The curated playlists can be delivered through various channels, including streaming platforms, physical media, or live events. Music curation services are typically provided by professional DJs, musicologists, or music enthusiasts who have a deep knowledge of music genres, history, and theory.
Music curation services can be a valuable tool for businesses looking to create a memorable customer experience and build brand loyalty. By curating the right soundtrack, businesses can influence customers' moods, behaviors, and perceptions, and ultimately drive sales and revenue.
Tailored Playlists for Your Business
Every business is unique, which is why we don't believe in one-size-fits-all playlists. Instead, we'll work with you to create a customized playlist that reflects your brand's personality and values. Whether you're a neighborhood restaurant, a boutique hotel, or a trendy clothing store, we'll curate a soundtrack that fits your vibe and appeals to your target audience.
Seamless Integration with Your Business
We understand that your business has its own set of needs and constraints. That's why we've designed our music curation service to be as flexible as possible. We can integrate with your existing sound system or provide our own best-in-class audiovisual equipment, depending on your preferences. We'll also work with you to ensure that the volume and timing of the music is appropriate for your business environment.
Expertly Curated Music Selection
Our team of musicologists and DJs are experts in their field. They stay up-to-date with the latest trends and genres, and they have an extensive knowledge in both the art and science behind music. When you work with us, you can trust that the music selection will be carefully curated to create the right atmosphere for your business.
Ongoing Support and Maintenance
Once we've created your custom playlist, we'll continue to support you with ongoing maintenance and updates. We'll monitor customer feedback and adjust the playlist as needed to ensure that it continues to enhance the customer experience. We'll also provide regular updates with new music selections and seasonal playlists to keep your music fresh and engaging.
CONTACT US FOR MUSIC CURATION SERVICES
If you're ready to maximize your customer experience with the right music for your business, contact us today to learn more about our music curation services. We'll work with you to create a custom playlist that reflects your brand and appeals to your customers. With our expert curation and ongoing support, you can trust that your music will enhance your business's atmosphere and create a memorable experience for your customers.
CONNECT WITH US
Elevate your Customer Experience through the power of Sound Solutions.