BETTER WAITING ROOM TV
CONTROL YOUR CONTENT
Tired of patient complaints, inappropriate content and changing the channel? Mood TV for Healthcare combines the power of digital signage with popular television programming to deliver a fully branded and personalized television experience.
Eliminate competitor ads and inappropriate content
Entertain with programming from NBC, ABC, CBS and much more
Display patient queues, weather and news tickers
Answer FAQs and share important health tips
Simple web-based control for quick updates
HALF THE COST OF CABLE
Experience our Digital Signage in a virtual fly-through of your practice. Watch Mood TV in your waiting room, and see how digital signage can be applied in other areas of your office. Imagine the possibilities and bring them to life with Mood.
"Why did I choose Mood? It's simple. Quality, service and convenience. I highly recommend Mood to any healthcare provider who wants to create an exceptional patient experience."
– Dr. Amit Ganglani, D.M.D. – Fresh Dental
MOST TRUSTED
Mood is trusted by more healthcare providers for their on-site media needs than anyone else.
END-TO-END PROVIDER
From software and media players to screens, content creation and installation, Mood has everything you need for your digital signage solution.
RESPONSIVE LOCAL SERVICE
With local technicians in every zip code and 24/7 remote support, we've got you covered with fast, friendly and responsive service.
MORE THAN JUST DIGITAL SIGNAGE
Mood is a single-source provider of Music, On-hold and Overhead Messaging, AV Systems, Scent Diffusion and more. Bundle solutions and save even more with Mood.
MOOD TV FOR HEALTHCARE SAMPLES
View the samples below to see Mood TV in action!
Content Management
Made Easy
Mood's digital signage software offers an online content management platform that's fast, reliable and easy to use. Create content like a pro using professional digital signage templates. Schedule and change content on the fly at a single office or across your entire network. Need content creation? We can supply that too.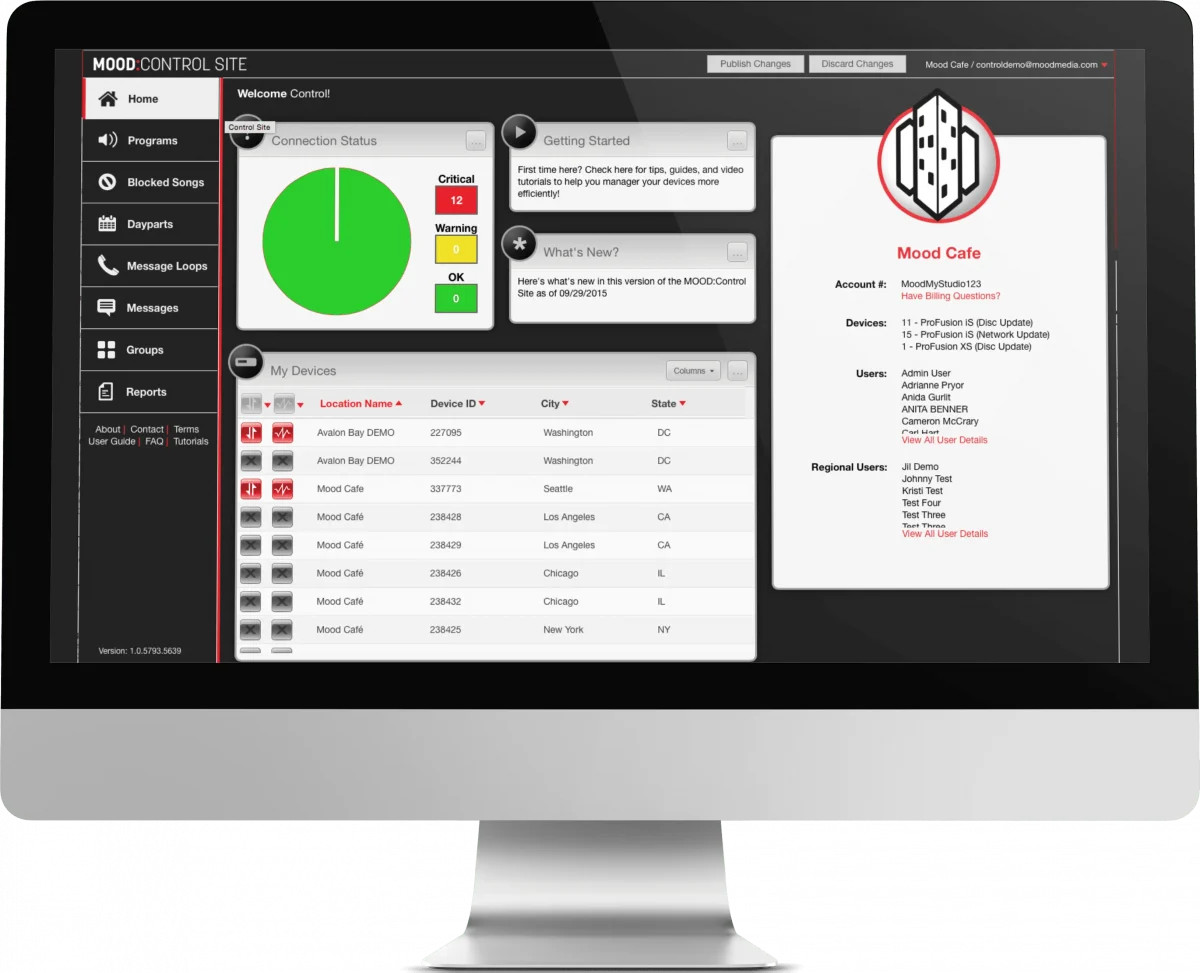 CONNECT WITH US
Elevate your Customer Experience through the power of Sight Solutions.