INNOVATIVE SOLUTIONS MADE AFFORDABLE
Elevate the experience and save with Mood Media – Qdoba's trusted media partner. Engage your customers and build lasting brand loyalty through the power of Custom Music, Digital Signage and more – designed for your brand.
Click below or contact moodmedia@qdoba.com to learn more about exclusive pricing for Qdoba!
SOLUTIONS DESIGNED FOR QDOBA.
From Custom Music and Digital Menu Boards to Mood TV for Qdoba and AV, our solutions are specifically designed for your brand.
LOCAL SERVICE & INSTALLATION
Serving every U.S. zip code, Mood has you covered with reliable on-site service and professional installation – backed by responsive 24/7 phone and email support.
DEDICATED ACCOUNT MANAGEMENT & SUPPORT
When you partner with Mood, you'll have the dedicated, daily support of our Qdoba account management team.
INNOVATIVE CONTROL WITH HARMONY
Our Music and Digital Signage solutions are supported by Harmony™ – our Brand Experience Platform. Easily control and monitor what guests see and hear at your restaurant from an intuitive web-based portal.
SINGLE-SOURCE PROVIDER
We're your one-stop-shop for all of your restaurant media needs. Bundle solutions and save even more!
QDOBA CUSTOM MUSIC
Bring the signature sound of Qdoba to your location. This custom program is the product of our highest level of human curation, handcrafted on a track-by-track basis.
Regularly updated
All tracks fully-licensed for business use
No third-party ads or interruptions
Made exclusively for Qdoba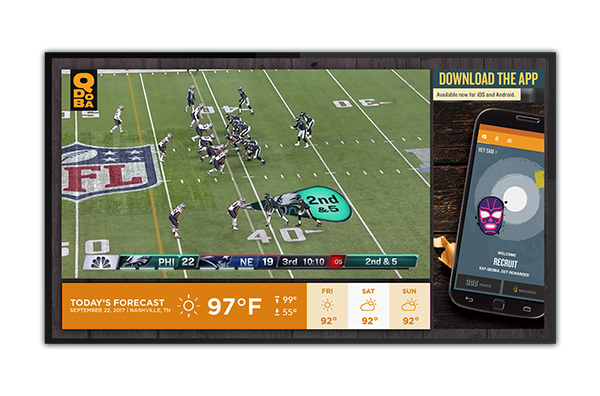 MOOD TV FOR QDOBA
Entertain your guests while promoting your business with Mood TV for Qdoba. Our exclusive commercial TV offering combines family-friendly programming with the power of digital signage – no competitive commercials included. It's like having your very own fully-branded, private local TV network.
Exclusive branded content pre-loaded for Qdoba
Top programming options on network TV
Regularly updated, family-friendly content
No competitor ads
Less than HALF the cost of cable
AV SYSTEMS
Complete the experience with commercial-grade AV systems. Save hundreds with unbeatable pricing from Bose, Klipsch, Samsung and LG. Backed by professional systems design, local installation and service.
High-performance, commercial-grade equipment made affordable
Comprehensive warranties
Maximum peace of mind from the world's most experienced Audiovisual provider
ELEVATE THE QDOBA EXPERIENCE
Complete the form or email moodmedia@qdoba.com to bring the power of Mood solutions to your location.