ABOUT
WAGAMAMA
Inspired by the fast pace of Japanese ramen bars and delicious Asian cuisine, restaurant chain Wagamama brings the nutritious and fresh flavors of Asia and the continent's unique way of eating to everyone. This was 25 years ago. Two decades later and they continue to hone their skills, refine their recipes, play with spices and discover unique flavours.
Mood was proud to have been entrusted by Wagamama to create awe-inspiring visuals that capture the essence of the brand's playful nature and work to drive foot traffic to three of their airport restaurants across both London Gatwick and London Heathrow.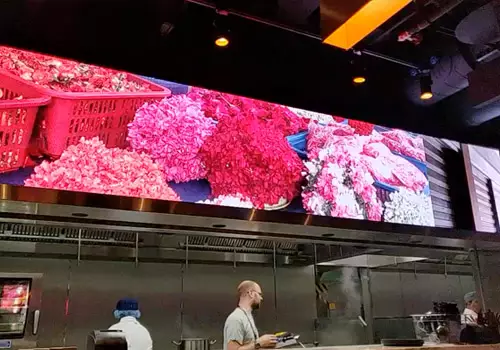 After a successful visual installation at the London Gatwick restaurant, the cooperation led to another two projects: a large scale installation at London Heathrow Terminal 5 of 21m x 2m sized LEDs and LED screens at the Terminal 3 restaurant. With a pixel pitch of just 6.25mm, the image quality of these screens is of a stellar standard and provides seamless content integration.
For the T5 hotspot, Mood created one seamless LED installation, made up of 68 different cabinets, to allow for all Wagamama content to play in a smooth and uninterrupted manner.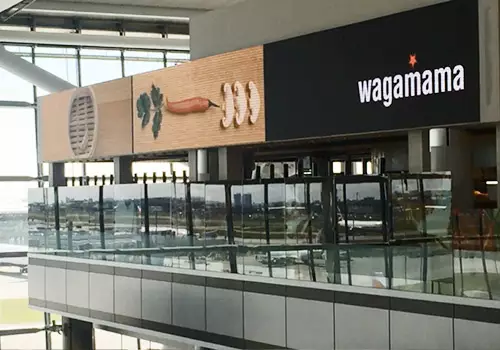 With over 200,000 passengers passing through London Gatwick alone each day, the scale of footfall at Wagamama's airport locations is impressive. With this in mind, there is simply no room for their technology and content to ever be down. Mood Media took the time to develop a maintenance agreement with Wagamama to take preventative measures and ensure that all basic elements at their restaurant locations are regularly cleaned to avoid any build up of dust in the electronics. This agreement helps give peace of mind to the brand that such high profile locations will always be maintained to the highest degree.
As well as installing two primary Harmony players serving the left and right side of the screens, Mood also installed secondary players which act as backup players should anything happen to the primaries, once again instilling confidence in the brand that their content will always be up and running no matter what.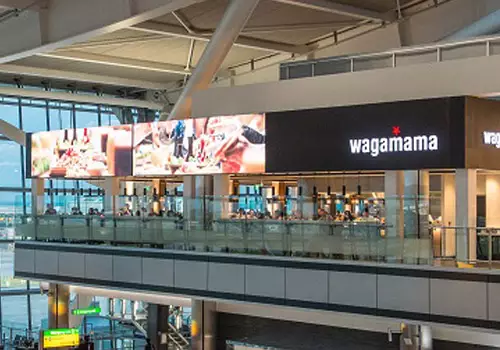 As requested by Wagamama, sensors installed within the screens control their brightness in line with the natural sunlight in the restaurant. Not only does this ensure that the content on-screen is consistently of the highest quality and most importantly, legible, but it also prolongs the life of the LEDs and helps use less power, allowing for a more sustainable consumption.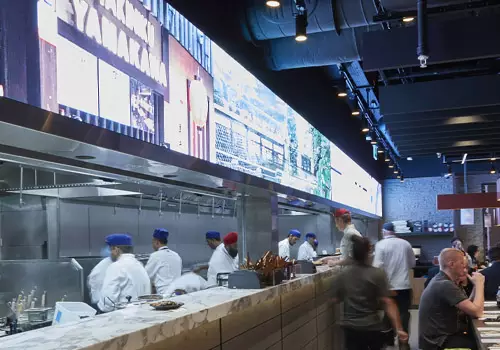 The content throughout all restaurants is day-parted by Mood to allow for different menus, promotions and any additional information to be displayed at certain times of the day. For example, breakfast menus can be displayed in the morning, flagship dishes might be shown during lunchtime hours and for the evening, larger dishes and alcoholic offerings are visible.
Mood also installed traditional menu screens in varying sizes depending on the location's needs.
CONNECT WITH US
Elevate your Customer Experience through the power of Mood's Solutions.