ABOUT
SIDESTEP
SIDESTEP, a brand of Foot Locker Inc., believes that sneakers, creativity & style go together and that carefully choosing your pair of sneakers is a form of creative expression. SIDESTEP speaks to the innovative and creative insiders who keep up with the latest trends and love to create their own style. The brand aims to inspire and motivate a new generation of look-makers by offering them a curated selection of must-have trainers and accessories that bring looks to life. With more than 80 shops across Germany, the Netherlands, Belgium, Spain, Luxembourg and Switzerland, SIDESTEP has become the sneaker retailer of choice for fashion fans around Europe.
CASE STUDY SUMMARY
Specially curated music program created for all stores
All new stores to be kitted out with Mood Harmony players
Existing stores transferring over to Mood Harmony
Replacing current light boxes for 75" screens
OBJECTIVE
As the brand continues to grow its European presence, they have begun a major project to rebrand their current stores to better reflect their brand personality and target demographic.
Mood Media is proud to have been selected to not only help make this rebrand a reality for future SIDESTEP stores, but also the 82 stores already across Europe. The new-look stores are a physical representation of the brand and their dedication to catering to the sneaker enthusiast, providing an aspirational overall in-store experience for their customers across all locations, all thanks to the in-store music and visuals from Mood Media.
CUSTOM MUSIC
SIDESTEP wanted a customised music program that inspires self-expression and feels modern, bold and creative. Female forward and fashion led, the music should appeal to the brand's target demographic: the European sneaker enthusiast.
Mood professional music designers worked closely with the brand to curate a music program that creates a positive, vibrant atmosphere that invites experimentation and celebrates diversity and personal style to a backdrop of comfort and trust. The carefully selected playlists reflect the brand's values of creativity, empowerment and sustainability.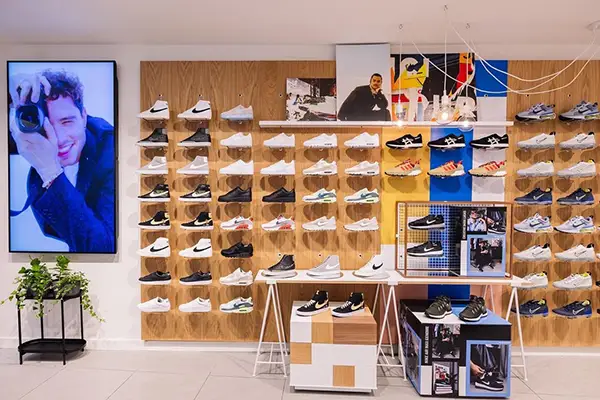 DIGITAL SIGNAGE
Across existing SIDESTEP stores, Mood was tasked with replacing the current light boxes for 75" screens.
THE RESULTS
"We chose Mood Media because the CMS (Harmony) ticks all our boxes in terms of being flexible and proactive in managing content in-store. It was also a good balance cost / functionality wise which we proved with the tender process we had in place."
"But also, as important as the above is the working relationship we have with Mood Media. The account team is always supportive and responsive. The big advantage also is the customer care for the technical issues. We appreciate so much how quickly and efficiently stores get the support they need."
– Maria Lambina
Manager Visual Merchandising, SIDESTEP at Foot Locker EMEA
CONNECT WITH US
Elevate your Customer Experience through the power of Mood's Solutions.