ABOUT
NISSAN
Japanese automobile manufacturer Nissan prides itself on making every decision and taking every action with the customer in mind. From conception to car construction, from testing to transparency, from customer service to commitment. Quality is in every fine detail.
Mood Media is proud to be Nissan's audiovisual provider, curating custom playlists for their showrooms as well as providing professional digital signage hardware.
CASE STUDY SUMMARY
Custom showroom music
Various units and screens of differing sizes across all showrooms
Impressive LED installations at the Nissan City Hub, Paris
OBJECTIVE
Innovation and commitment to quality are at the heart of Nissan's ethos and so it's no surprise that they wanted their showrooms to reflect that. Since 2014, Nissan has entrusted Mood to install and continually upgrade their retail design concept throughout over 1,400 showrooms across 35 different countries, with new sites being added to that list every year.
DIGITAL UNITS & SCREENS
The Welcome Unit was redesigned by Mood to give it a slim-line form, thereby minimising its impact on sight lines. It presents the Nissan feature car immediately at the front entrance, acting as a focal point and a bold statement of intent.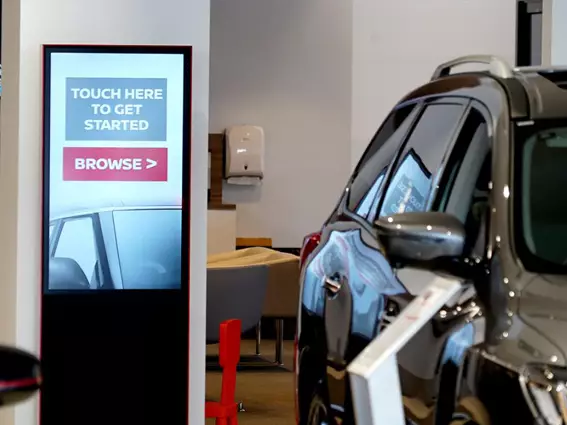 50" and 65" screen arrays in the heart of the showroom attract the customer's attention with content displayed that celebrates the Nissan brand. The screens help animate the showroom and act as a beacon to drive customer circulation throughout the showroom.
High tables with a 43" POS Screen provide another eye-catching attraction for consumers and remove the reliance on paper POS communication and support for launches.
In the customer lounge, a 50" screen at the "Refuel Unit" displays engaging content to encourage customer interaction with the latest Nissan innovations, helping customers pass the time while they wait in the lounge.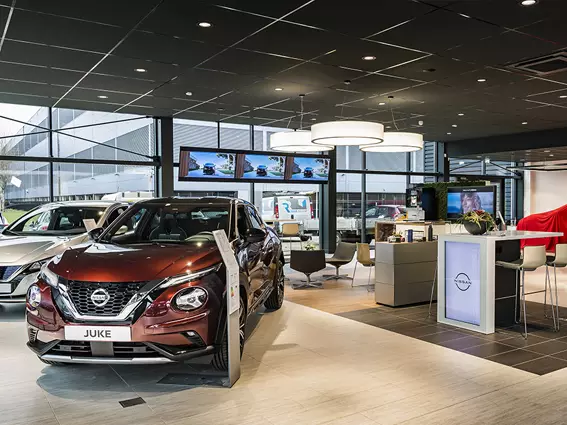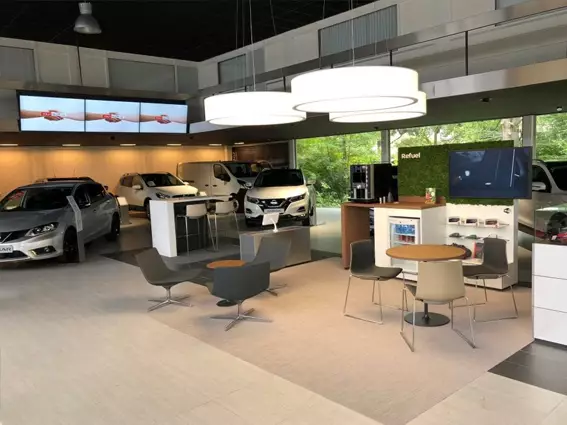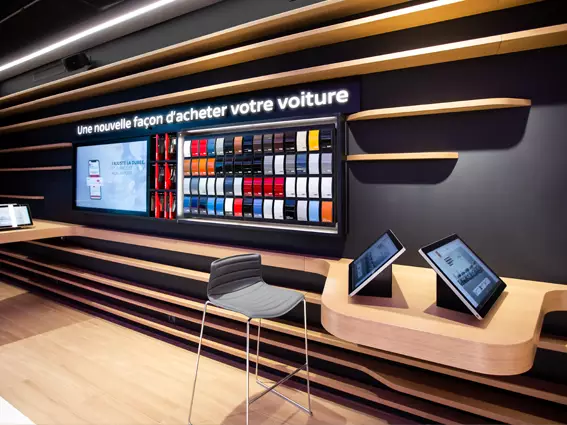 SHOWROOM MUSIC
The main focus for Nissan in their showroom music was modernity, technology, allure, comfort, pleasure and performance. Nissan's custom playlists position the brand as the trendsetter it is, providing a non-intrusive soundtrack that embodies the customer journey from start to finish.
As a global company, Nissan needed a global approach to their soundscape, therefore two of the Mood music design teams work in tandem to provide the brand with a sound identity that not only reflects the shared values of the brand around the world, but also provides a dynamic local experience to its customers.
The Mood Music Design team work closely with Nissan, conducting quarterly creative reviews to ensure the music strategy remains on brand and is meeting the brand's needs, as well as ensuring that all tracks are screened for explicit or suggestive language that may be deemed unsuitable.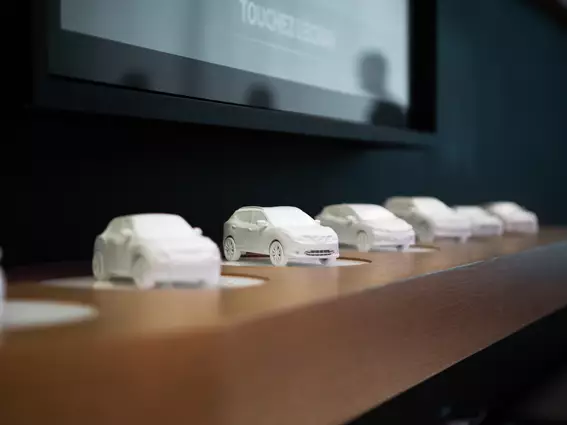 CAR CONFIGURATOR "DESIGN LAB"
The Design Lab is an in-store personalisation concept where customers can enjoy Nissan's interactive configurator experience; to build, personalise and accessorise their dream car. Mood installed accessory screens and wall-mounted/fixed table tablets depending on the format of the dealership. The screens enable the customer to see their fully customised Nissan car to be displayed on the big screen whilst the tablets facilitate the configuration in an easy-to-use manner.
NISSAN
CITY HUB SHOWROOM
In 2019, Nissan also unveiled its first Nissan City Hub, a revolutionary new approach with the convergence between e-commerce and a concept store, located just a stone's throw away from Vélizy 2, a popular shopping centre in Paris. Following a successful long-term partnership, Nissan commissioned Mood Media to deliver an exclusive and immersive experience for the brand, one that puts consumers at the heart of Nissan's vision for tomorrow's mobility and broadens the showroom's demographic beyond the usual.
Mood's multi-zone touch point approach turned Nissan's City Hub in Paris into a truly state-of-the-art 'phygital' space. Interactive screens with call-to-action content invited customers to discover the brand at their own pace, whilst the ultra-definition LED installation spanning from wall to ceiling to fascia and displaying futuristic and elegant animations, helped attract customers into the store. The sheer volume of LED in the relatively small area changed the atmosphere of the full room completely, something that was taken into consideration when creating the visual content. Nissan associates, with tablets provided by Mood, complemented the experience by offering a personalised service and human touch element.
CONNECT WITH US
Elevate your Customer Experience through the power of Mood's Solutions.