ABOUT
G-STAR RAW
Since 1989, G-Star RAW has been pushing the boundaries of denim design. Grounded in the philosophy of 'product first', G-Star RAW's winning combination of high craftsmanship with street edge has made them one of the most innovative designers, not only in fashion but across the design spectrum.
CASE STUDY SUMMARY
Custom LED Window
Digital Social Wall
Custom Music
Content Management
OBJECTIVE
With innovation, sustainability and creativity at the brand's core, G-Star RAW's mission is to bring pioneering styles and challenge industry standards, whilst constantly trying to improve their impact on people and planet. Mood Media was entrusted with designing and installing a range of audiovisual solutions to inspire the G-Star RAW customer.
WINDOW LED WITH CUSTOM BRACKET
To grab the attention of consumers from the minute they step in front of the store, Mood designed and installed a window LED with a custom built frame for G-Star RAW where staff can change the angle of the solution easily. The stunning high-brightness LED display offers an outlet for the brand to complement the digital experience on offer in store, making it all the more immersive for G-Star RAW customers.
Light sensors installed within the panels control their brightness in line with the natural sunlight in the store window. Not only does this ensure that the content showing is consistently of the highest quality and most importantly, legible, but it also prolongs the life of the LEDs and helps use less power, allowing for a more sustainable consumption.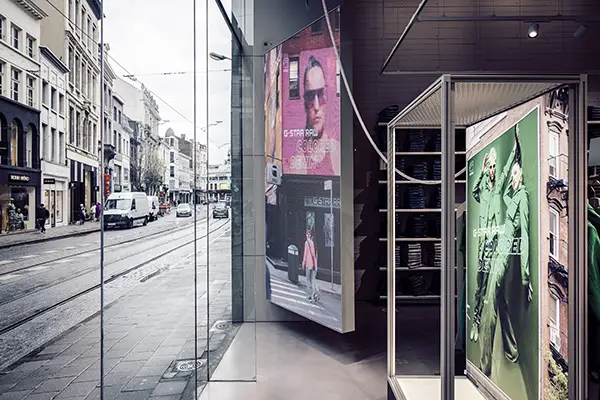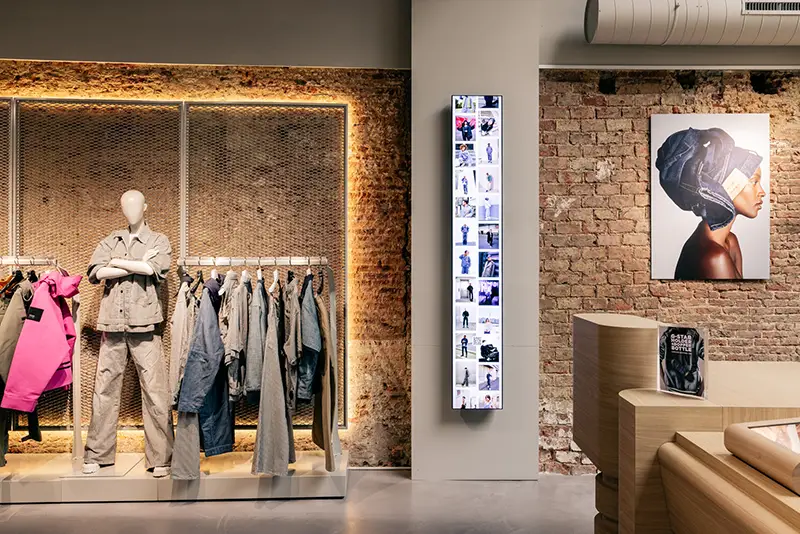 DIGITAL 'SOCIAL' WALL
For their new-look Antwerp store, G-Star RAW was looking for a high-res screen where they could showcase the brand's social content. For this solution, they requested an aesthetically pleasing screen, preferably portrait and that gave a different feel than other traditional style screens. Mood installed an LG 86" Stretch Display to encourage customers to engage with G-Star RAW's branded social content streamed directly from G-Star RAW's official Instagram account via Mood's proprietary CMS Mood Harmony and as part of a custom designed digital signage template.
CUSTOM MUSIC
Influenced by G-Star RAW's explorative and innovative contribution to design, Mood Media continually aims to bring to life the brand's philosophy and culture through an inspired music concept based on the brand's core values. Our talented team of music professionals created several bespoke G-Star RAW playlists in line with such values, focusing on tracks that feel authentically raw, innovative, and expressive.
CONTENT MANAGEMENT
Mood Media schedules all G-Star RAW audio and visual content via Mood Harmony with frequent updates to keep the brand's in-store experience fresh and exciting.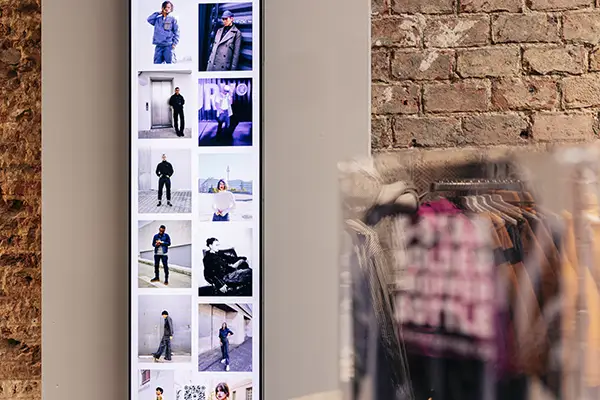 CONNECT WITH US
Elevate your Customer Experience through the power of Mood's Solutions.