INSPIRATIONAL WOMEN IN MUSIC
The music industry is continuously evolving, with more and more powerful women coming to the forefront, but it wasn't always so welcoming towards female recording artists. In the early 20th century, many women were barred from performing in certain venues whilst others faced discrimination on the road, radio, and from record label executives and fellow male artists.
This International Women's Day, we wanted to highlight a selection of the stories, voices and talents of some of our creative teams' female inspirations in the industry.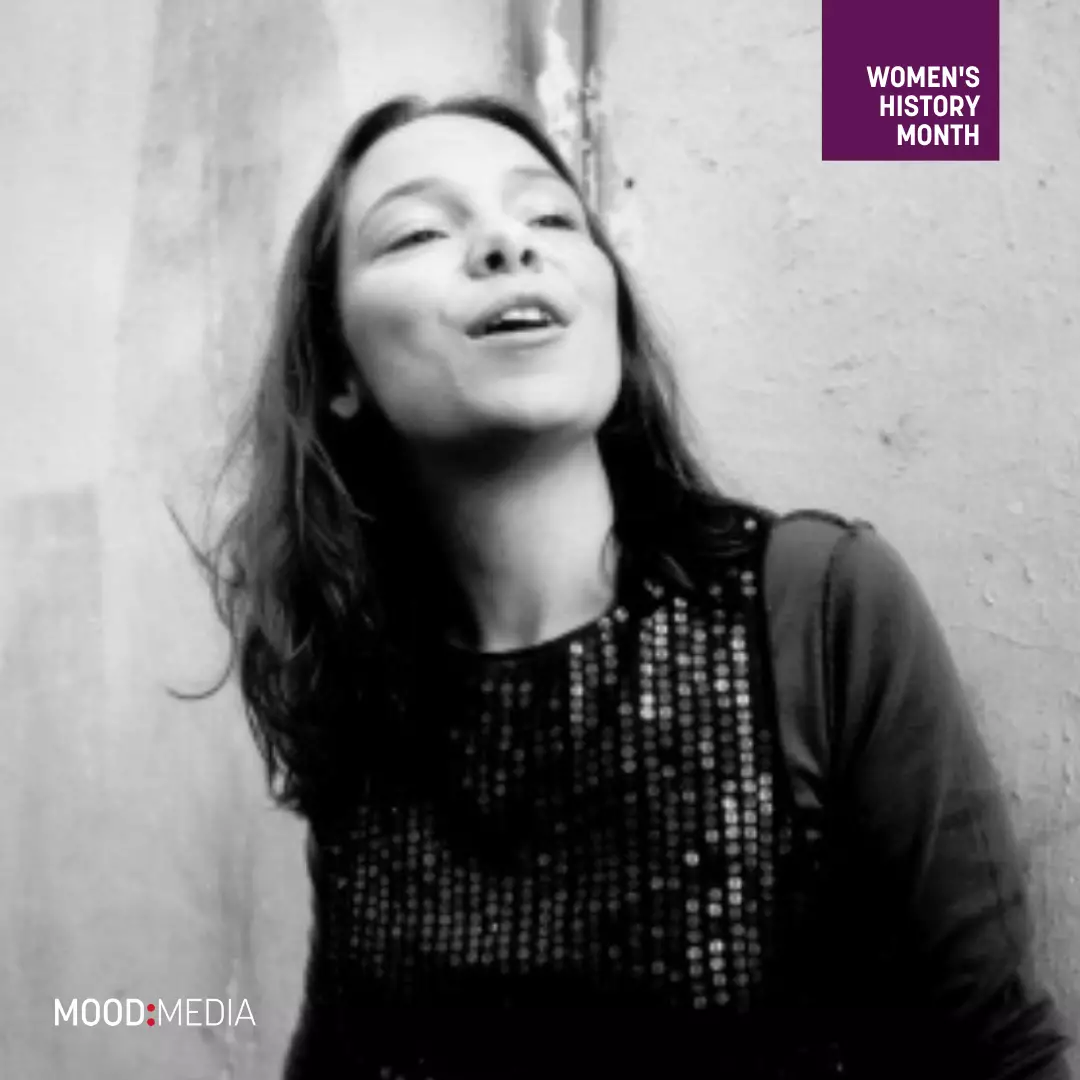 [Image Source: Filippa Lidholm]
Lhasa de Sela
by Tommy Virga (Senior Music Supervisor)
Lhasa de Sela was an inspiring American-Canadian artist who sang and wrote in English, Spanish and French. She was able to express her feelings and life through her music that transcended into many different cultures and genres, including Mexican and gypsy folk melodies. She started singing as a young girl in bars and came to be an inspiration who touched millions of people's souls over her short time with us. Lhasa sadly died of breast cancer in 2010.
Lhasa inspired an emotional connection with me at a young age. Her soulful voice, poetic lyrics, and haunting melodies could evoke profound emotions of happiness, sorrow, and reflection within me. Lhasa also had a strong commitment to social justice and human rights. She was a strong supporter of women's rights, which cascaded into her music, addressing issues such as violence against women and the struggle for female empowerment. She was also a vocal advocate for indigenous, migrant, and environmental rights.
Tommy's Favorite Tracks :
"El Desierto" – video above
Additional songs to check out:
🎵 Rising
🎵 La Marée Haute
Angélique Kidjo
by Amy Frishkey (Music Supervisor)
Versatility and activism have driven award-winning Beninese musician Angélique Kidjo's career for over forty years.
As a child, she listened closely to her brothers' band and their U.S. soul record collections. As a teenager, her father challenged her to write songs that build bridges and teach acceptance. Since arriving in France in her early twenties as a refugee, she has shined across genres, including jazz, western classical, R&B, Afropop, Latin salsa, and reggae. Kidjo's must-have album from last year, Mother Nature, finds her connecting to younger audiences through her collaborations with rising African talents like Burna Boy, Sampa the Great, and Zeynab.
Female empowerment is an ongoing theme in Kidjo's work. Her exposure to activists like Winnie Mandela, musicians like Aretha Franklin and Miriam Makeba, and her mother's involvement in campaigns for the right to vote and against domestic violence made her a staunch feminist. In 2006, Kidjo started her own foundation, Batonga, to help girls in Africa get a secondary education. Her 2014 album, Eve, celebrates the beauty and strength of women in everyday life; around the same time, she joined an all-women supergroup of west African musicians known as Les Amazones d'Afrique, formed to campaign for gender equality on their eventual album République Amazone.
Although I had long known of Kidjo and programmed her music for Mood offerings like African Rhythms and Destinations, her January 2016 performance on Austin City Limits and her candid interview with journalist Ann Powers at SXSW on June 29 of that year made me a diehard fan. Since then, I have looked to her as an example and guiding light.
Amy's Favorite Tracks :
"Fired Up" – video above
Additional songs to check out:
🎵 Dombolo (Les Amazones d'Afrique feat. Angélique Kidjo)
🎵 Kelele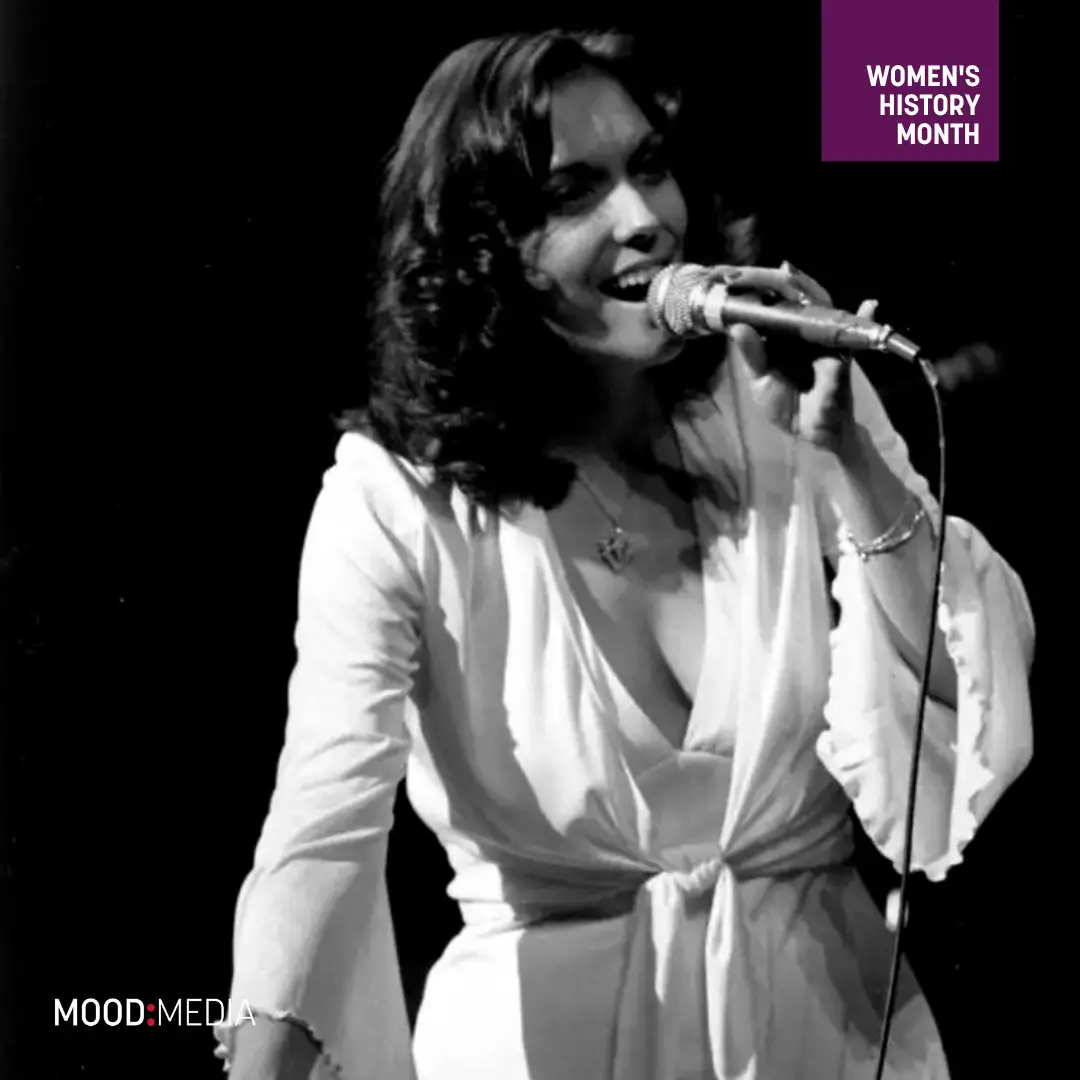 [Image Source: Tim Graham/Getty Images]
Karen Carpenter
by Barry McPhillips (Head of Creative, International)
Karen Carpenter was an American singer and drummer, who formed half of the sibling duo Carpenters alongside her older brother Richard. With a distinctive three-octave contralto range, she was praised by her peers for her vocal skills. Carpenter's eventual death of heart failure related to her years-long struggle with anorexia would later raise awareness of eating disorders and body dysmorphia and their possible causes.
During the 1970's Karen was a pioneer for female empowerment, especially in the music industry. Karen's parents had hoped that Karen's brother, Richard's musical talents would be recognised and that he would enter the music business. But they were not prepared for Karen's success in which she turned out to become one of the world's most iconic artists.
It is thought that Karen's influence on other talented female singers led to the launch of careers of Madonna, Sheryl Crow, Pat Metheny, Sonic Youth's Kim Gordon, Shania Twain, Natalie Imbruglia, and k.d. lang.
Barry's Favorite Tracks :
"Close To You" – video above
Additional songs to check out:
🎵 Rainy Days and Mondays
🎵 We've Only Just Begun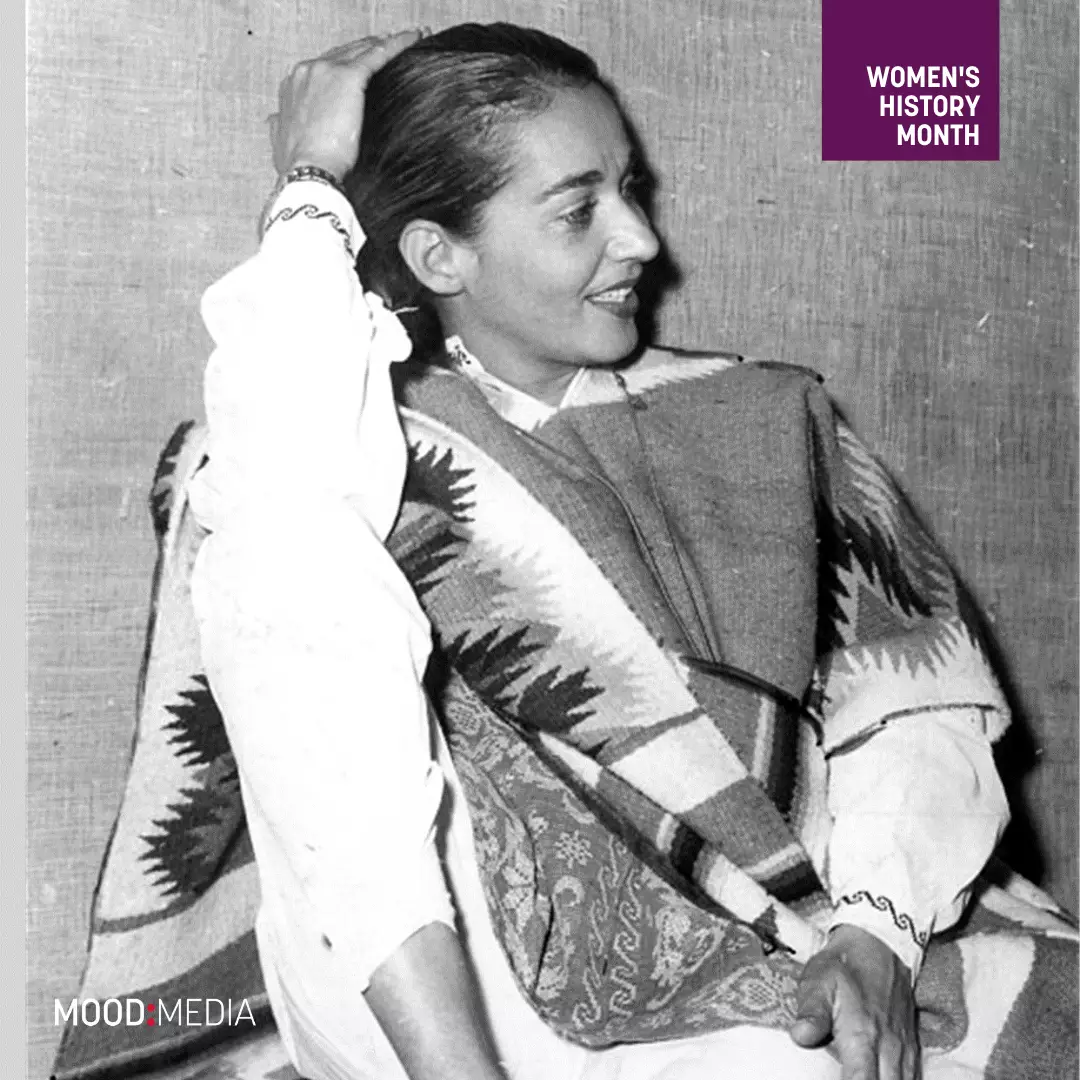 [Image Source: Panorama 2017, USA 2017 by: Catherine Gund, Daresha Kyi. Chavela Vargas © Excelsior/Imagen Digital]
Chavela Vargas
by Alex Espinosa (Senior Music Supervisor)
Growing up in a Mexican household, I was raised listening to all types of Latin music ranging from Rancheras to Mariachi music. My mom would play her favorite music that always reminded her of her hometown in Mexico. An artist that always stood out to me as having an emotional impact on my mom was the music by Chavela Vargas. Isabel Vargas Lizano, who went by her pet name of Chavela, was born and raised in Costa Rica. She migrated to Mexico after her parents divorced to pursue a music career at the age of 17. There she slummed it playing her own music on the streets of Mexico City while wearing men's pants and ponchos trying to blend in, in a male dominant industry. All the while, she befriended local artists and club promoters. Her music style of haunting renditions of rancheras with touches of Mariachi made her a household name throughout her adoptive country and admired by many. I always felt that my mom had a special connection to Chavela as she also migrated to another country when she was young. Chavela Vargas sadly passed away in 2013 at the age of 94 but her music has always and will forever live on.
Alex's Favorite Tracks :
"Chavela Vargas" – video above
Additional songs to check out:
🎵 Anillo de Compromiso
🎵 Juan Charrasqueado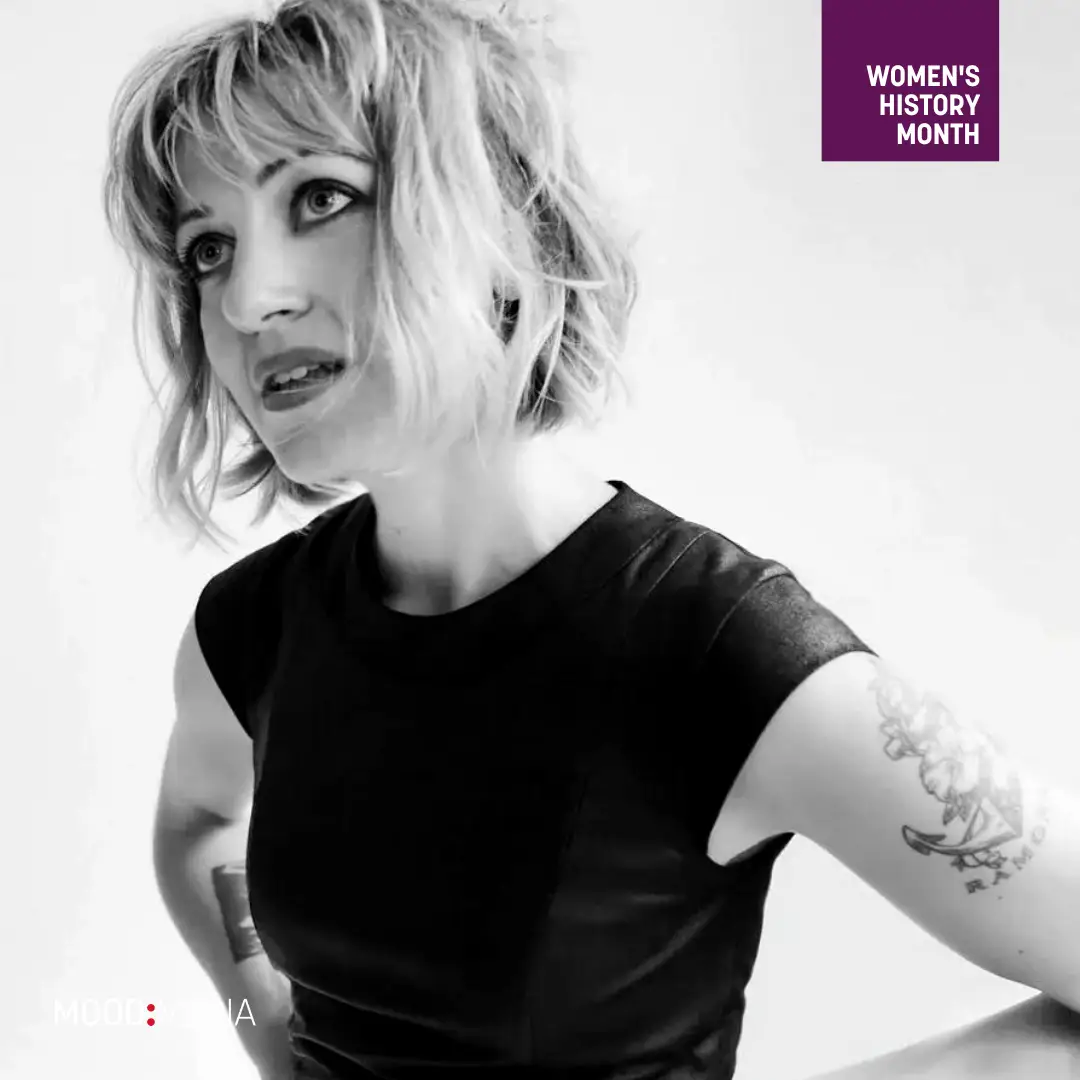 Anaïs Mitchell
by Molly Chen (Music Researcher)
Anaïs Mitchell is an American folk singer/songwriter/ playwright who grew up believing that if you could write a song good enough, you could change the world. Raised on folk ballads and protest music, inspired by other bold female songwriters (Ani DiFranco, Tori Amos, Dar Williams), and fueled by political activism, Mitchell began writing her own songs early on and has since released 8 studio albums.
Mitchell's fourth full-length album, Hadestown, was a sociopolitically-charged retelling of the Greek myth of Orpheus and Eurydice. Based in America during an economic depression, the folk opera incorporates themes of climate change and economic inequality, serving as a critique of capitalism and environmental exploitation. With the music, lyrics, and book written by Mitchell, the musical eventually opened on Broadway and went on to win 8 Tony Awards (incl. Best Musical and Best Original Score) of 14 nominations as well as a Grammy Award for Best Musical Theatre Album. The musical also partnered with the Natural Resources Defense Council and has since has become the longest-running show at the Walter Kerr Theatre.
Mitchell was recently named one of Time's 100 Most Influential People, and is also a member of Grammy-nominated folk supergroup Bonny Light Horseman. As a fan of her work in all its iterations, I'm amazed by Mitchell's musical talent and of course, as a music fan overall, believe in and am inspired by the idea of using art as a way to fuel necessary change.
Molly's Favorite Tracks :
"Shepherd" – video above
Additional songs to check out:
🎵 Any Way The Wind Blows
🎵 Epic, Pt. 1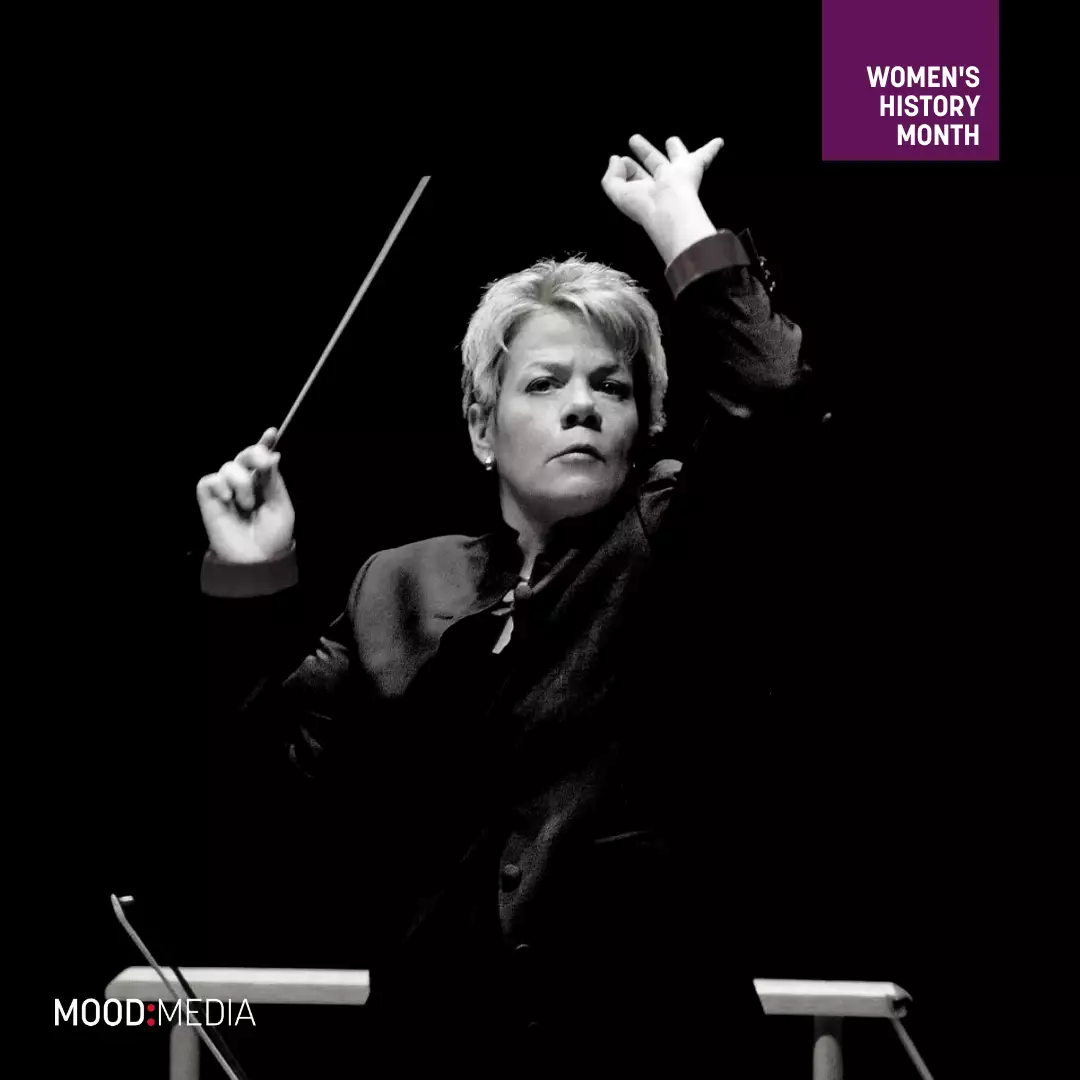 [Image Source: Marin Alsop, 2007. Grant Leighton]
Marin Aslop
by Erin Yousef (Manager, Music Supervision)
World renowned conductor Marin Alsop made history as the first woman to head a major American symphony orchestra when she was appointed as music director of the Baltimore Symphony in 2005.
After seeing Leonard Bernstein in concert for the first time, an inspired nine-year-old Alsop told her violin teacher that she wanted to be a conductor, too. Her teacher told her no, that girls cannot be conductors. But Bernstein eventually became her mentor, and despite the sexism and discrimination that persists in the field, Alsop now enjoys a history-making, illustrious career. She has worked with some of the world's leading orchestras including the London Philharmonic and London Symphony Orchestras, La Scala Orchestra, and Orchestre de Paris. She has served as music director for Brazil's São Paulo Symphony Orchestra, and she is currently the chief conductor of the ORF Vienna Radio Symphony Orchestra, and the chief conductor and curator of Chicago's Ravinia Festival, where she curates and conducts the Chicago Symphony Orchestra's summer residencies.
Her remarkable career inspired the documentary film, The Conductor, and as a classically trained musician and a woman, it inspires me to see a woman reach such prominence in what remains a largely male-dominated area of the classical music world.
Erin's Favorite Tracks :
"Meditation No. 1" – video above
Additional songs to check out:
🎵 DANCE, I. when you're broken open
🎵 Candide: Overture
Mylène Farmer
by Rachel Jaques (Associate Music Supervisor)
Mylène Farmer is a successful Canadian/French singer and songwriter, whose career has spanned almost 40 years. She has sold over 30 million records in France alone and is one of the most successful artists of all time in the country.
Since the beginning of her career, her songwriting has carried themes of female empowerment and inclusion. As a result she has been a powerful voice for many women as well as many in the LGBTQ community. Through her music and exquisite film-like music videos, Mylène champions women, and validates all shades of femininity; from calling for love for all women in her anthem 'XXL' to fighting for women in the music video for 'California', as well as portraying women as warriors and being her own savior in her music video for 'F*** Them All'. Mylène is an artist who is unafraid to speak about sometimes difficult subject matters, and songs such as her 2018 release 'Désobéissance' touts a reminder to disobey and stand unafraid to challenge ideas in order to make positive change.
Throughout her career she has played with ideas surrounding gender, androgyny and challenged perceptions of what women are expected to be. Mylène has been a huge influence on me both musically and personally, and has always been the voice of empowerment and inspiration that I return to time and time again.
Rachel's Favorite Tracks :
"Dessine-moi un mouton" – video above
Additional songs to check out:
🎵 Sans logique
🎵 XXL