PRIDE MUSIC
Pride Month is all about acceptance, equality, celebrating the work of LGBTQ+ people, education in LGBTQ+ history and raising awareness of issues affecting the LGBTQ+ community. To celebrate this important month, we wanted to highlight some of our music supervisors' LGBTQ+ inspirations, allies to the community, and queer popular artists within the music industry.
Charli XCX
by Jake Maracic (Music Supervisor)
Charli XCX has been creating hot, dancefloor packing jams for a decade now. Collaboration is key, and Charli makes her impact felt working with hit makers like Haim and Selena Gomez, to progressive icons like Sophie. Sassy and sweet, her booming tracks always stick in your ears. An icon to many, XCX has always maintained just how important the LGBTQ+ community has been in her music career and life.
Jake's Favorite Tracks :
"Used To Know Me" – video above
Additional songs to check out:
🎵 Boys
🎵 Gold Coins
Lucius
by Amy Frishkey (Music Supervisor)
Lucius is headlined by the lush harmonies, a doppelgänger visual, and life experiences of singers Holly Laessig and Jess Wolfe, who front the L.A.-by-way-of-Brooklyn band. Their music ranges from retro dance anthems to contemplative folk, and their latest album, Second Nature, is currently making indie pop's best-kept secret a staple for the savvy ear.
Amy's Favorite Tracks :
"Dance Around It (ft. Brandi Carlile & Sheryl Crow)" – video above
Additional songs to check out:
🎵 Something About You
🎵 Madness
Sylvester
by Spencer Manio (Music Supervisor)
With that incredible falsetto, Sylvester was crowned the "Queen of Disco" and was a true pioneer in terms of his proud queerness in the music world. An outrageous performer with flamboyant flair and androgynous appearance, he had massive worldwide hits in the late 70's through the early 80's. After being pressured by his record label to 'butch up' his image, he would defiantly attend label meetings in full-on drag making his intentions loud and clear. He tragically passed away from AIDS related complications in 1988. In his will, he declared that all royalties from the future sale of his music be given to HIV/AIDS charities. In 2019, his song "You Make Me Feel (Mighty Real)" was selected by the Library of Congress for preservation in the National Recording Registry for being "culturally and historically significant."
Spencer's Favorite Tracks :
"You Make Me Feel (Mighty Real)" – video above
Additional songs to check out:
🎵Do You Wanna Funk?
🎵 I Need Somebody To Love Tonight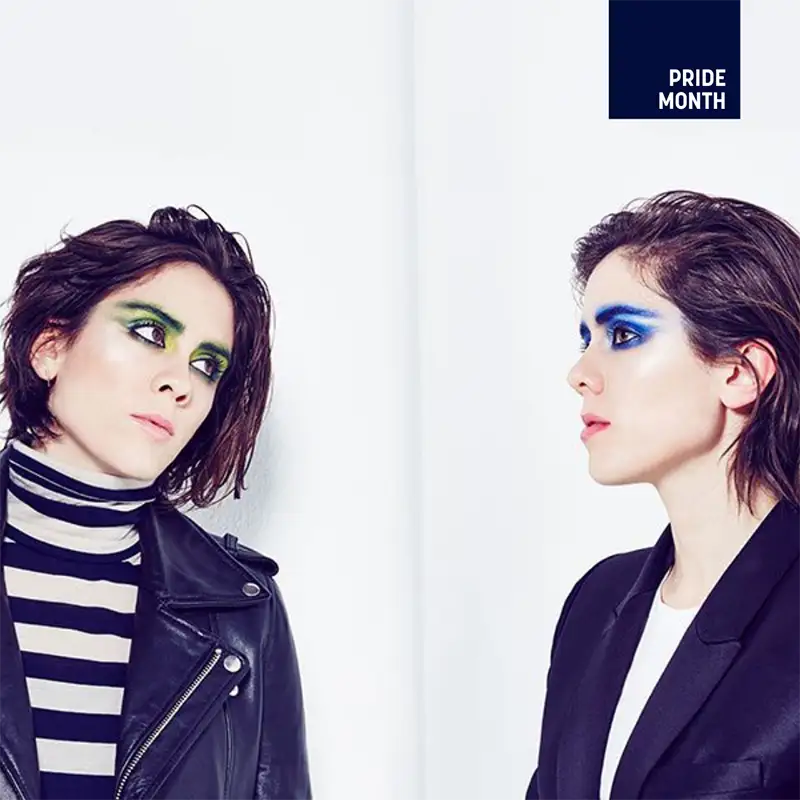 [Image Source: Pamela Littky]
Tegan & Sara
by Daniel Muff (Music Supervisor)
It's 25+ years later and Tegan and Sara still represent everything that's right, fun, important, and…ahem…a-w-e-s-o-m-e! in the world. The iconic identical Canadian twins have gone from acoustic folk to shiny pop and back again (their latest album is an acoustic re-recording of their 2004 album 'So Jealous') while never losing their impeccable sense of crafting perfect pop songs. Their rise has been steady and they went from their bedroom and high-school recording studio to the Grammys. They wrote a book, started a newsletter, and founded the Tegan and Sara Foundation in 2016 to support LGBTQ+ girls and women. Openly gay and outspoken social and political activists, the pair never misses an opportunity to stand with minorities and fight for justice. Hey T and S, we think we would like you if we met you!
Daniel's Favorite Tracks :
"You Wouldn't Like Me" – video above
Additional songs to check out:
🎵I Hear Noises
🎵 Back In Your Head