DO MORE WITH YOUR TV
Your TV is a powerful tool. Whether you're showing the big game, news coverage or any other programming, TV holds your customer's attention and elevates the experience. Now with TV Pass Thru, you can finally make the most of it.
Combining the power of digital signage with commercial TV, this hybrid visual solution entertains your customers with the programs they want to watch while driving the sales that your business needs – all on one screen.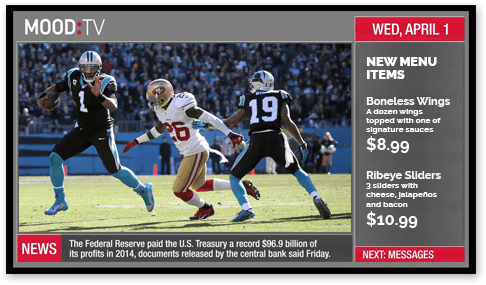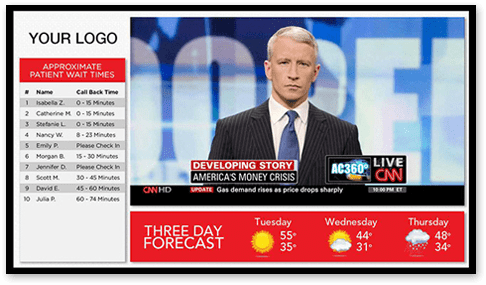 You can inform, educate and promote with branded screen wrap templates displayed alongside broadcast television programming. Air your choice of live or broadcasted television programming on a full display, or integrate your own promotional messaging on the same screen.
MVISION ONLINE PORTAL
An easy-to-manage online portal allows you to quickly update your digital signage, apply changes or switch between live TV and branded content from anywhere in the world. Entertaining your customers AND driving sales couldn't be easier.
BENEFITS
Air live or broadcasted television alongside custom branded messaging
Promote your offerings and special events
Display live news feeds, social media posts and more
"Share the screen," go full screen live TV or full digital signage
Customize and schedule content through a web-based portal
Choose from a variety of professionally designed or custom templates
Captivating CGI animation and award-winning graphics
Reliable technology, backed by dependable local service
It would be really cool if I could run ticker ads and sidebar promos around my normal TV programming.
I wish I could combine my TV programming with some of your digital signage programming on the same screen.